Introducing Johnny Griffin 2LP 45rpm 180 Gram Vinyl Blue Note Records Analogue Productions RTI USA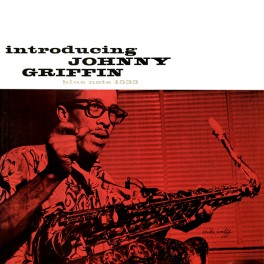 Maximize
The best albums from legendary Blue Note Records jazz catalogue get impeccable audiophile treatment by Analogue Productions, cut at 45rpm for ultimate sound quality by equaly legendary mastering engineers Kevin Gray and Steve Hoffman at AcousTech, preserving all the analog glory of the Original Master Tapes to bring these sessions to life in spectacular fashion, like they deserve.
Limited Edition (Mono)
Numbered Edition
Mastered from the Original Analog Master Tapes
Cut by Kevin Gray and Steve Hoffman
Mastered at AcousTech
2LP 180 Gram Virgin Vinyl 45rpm
Pressed by RTI USA
"…As much as I'd love to relay all kinds of anecdotes about the challenges Steve Hoffman and Kevin Gray encounter during the mastering sessions, I witness none. These boys know the sound of the facility and the Van Gelder masters like the backs of their hands…Back home a month later, I unpack some test pressings Chad Kassem has sent me…I hear the most realistic-sounding drums ever reproduced by my system. It's as though I'm sitting at the point of creation, experiencing the same high that brought such gifted musicians together as one. Steve Hoffman, Kevin Gray, Chad Kassem, and Don MacInnis have done Rudy Van Gelder and his Blue Note artists proud." – Jason Victor Serinus, Stereophile
Johnny Griffin had been kicking around in R&B bands for years before his Blue Note debut in 1956. And what was "introduced" was a tenor saxophonist with a fresh sound, a warm, soulful style and the fastest technique in jazz. He moves from lyrical ballads to blistering tempos with ease. Within two years, Griff would become one of the leading tenor saxophonists in jazz as a member of Thelonious Monk's quartet.

When it comes to playing exciting straight ahead jazz, Johnny Griffin was always impossible to top. Billed as "the world's fastest saxophonist," Griffin was a powerful force from the beginning of his career, playing every note with intensity. Born in Chicago, the tenor was a member early on of the Lionel Hampton Big Band (1945-47), played r&b with Joe Morris, jammed with Bud Powell and Thelonious Monk, and was an important part of the Chicago jazz scene before moving to New York in 1956. He became an early influence on the sound of Rahsaan Roland Kirk and was renowned in the Midwest even before he led his first albums.

By then there was much more to him than just speed for Griffin could show a great deal of warmth on ballads and plenty of sophistication even at the most rapid tempos. But one cannot imagine anyone defeating him in a saxophone battle, even Eddie "Lockjaw" Davis (with whom he co-led a notable group) or John Coltrane. He had a long and productive career that for decades found him playing the hard-charging bebop and warm ballads that he most loved.

While Introducing Johnny Griffin was actually the 28-year old's album as a leader, it was his Blue Note debut and one of the milestones of his career. Joined by an unbeatable rhythm section with Wynton Kelly and Max Roach, Griffin excels on barn-busters and ballads alike. A master at ripping effortlessly through chord changes, Johnny Griffin displays youthful energy along with the maturity of a veteran, sounding very much like himself throughout this superb outing.

Even if the tenor had stopped playing right after recording Introducing Johnny Griffin, he would be known as one of the great tenor-saxophonists of the era.
Musicians:
Johnny Griffin, tenor saxophone
Wynton Kelly, piano
Curly Russell, bass
Max Roach, drums
Track Listing:
1. Mil Dew
2. Chicago Calling
3. These Foolish Things
4. The Boy Next Door
5. Nice And Easy
6. It's Allright With Me
7. Lover Man
Click here to listen to samples on YouTube.com ♫