Chet Baker Trio ‎Daybreak LP 180 Gram Vinyl SteepleChase Records Audiophile Edition Pallas EU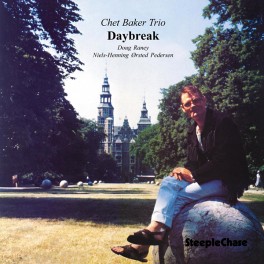 Maximize
Artist:
Chet Baker
Title:
Daybreak
Catalog Number:
SCS-1142
Label:
SteepleChase Records
Reissued by:
SteepleChase Records
Barcode:
716043114214
Original release year:
1980
Reissue year:
2005
Number of discs:
1
Revolutions per minute:
33⅓ rpm
Disc size:
12"
Vinyl Weight Grade:
180gr
Total Item Weight:
271gr
Pressing country:
Germany
For Market Release in:
EU
Added to catalog on:
May 15, 2019
Note:
Never eligible for any further discounts
Vinyl Gourmet Club:
No
Chet Baker returned to Europe in the mid 70's where he spent the rest of his life, performing there primarily but with occasional trips to Japan and short periods back in the USA. During this period living in Europe, Chet Baker recorded some amazing albums for Danish jazz label Steeplechase before his tragic death in Amsterdam, Netherlands in 1988.
Audiophile 180 Gram Vinyl
Pressed at Pallas in Germany
SteepleChase Audiophile Vinyl Series
Trumpet, vocal. Recorded live at Montmartre Copenhagen, October 4, 1979. With Doug Raney on guitar and Neils-Henning Orsted Pedersen, bass.

The success of the earlier release by this trio "The Touch Of Your Lips" brought the group together again this time for "live" recording at club Montmartre packed with Baker fans.

Radio Free Jazz wrote, " His present playing is extraordinary, the best of his career, and he has never found a more empathetic context than this trio with guitarist Raney and bassist Pedersen… The interplay among these three superb musicians yields a quality of collective improvisation comparable to that of Bill Evans' greatest trio …."
Musicians:
Acoustic Bass – Niels-Henning Ørsted Pedersen
Trumpet/Vocals – Chet Baker
Guitar – Doug Raney
Track Listing:
1. For minor's only (Jimmy Heath)
2. Daybreak (Hoagy Carmichael)
3. You can't go home (Don Sebesky)
4. Broken wing (Richie Beirach)
5. Down (Miles Davis)
Click here to listen to samples on YouTube.com ♫