Chet Baker Trio ‎Someday My Prince Will Come LP 180g Vinyl SteepleChase Audiophile Edition Pallas EU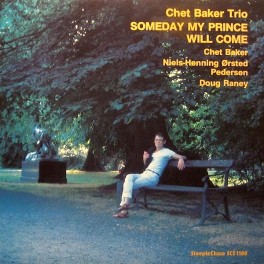 Maximize
Artist:
Chet Baker
Title:
Someday My Prince Will Come
Catalog Number:
SCS-1180
Label:
SteepleChase Records
Reissued by:
SteepleChase Records
Barcode:
716043118014
Original release year:
1983
Reissue year:
2018
Number of discs:
1
Revolutions per minute:
33⅓ rpm
Disc size:
12"
Vinyl Weight Grade:
180gr
Total Item Weight:
275gr
Pressing country:
Germany
For Market Release in:
EU
Added to catalog on:
May 14, 2019
Note:
Never eligible for any further discounts
Vinyl Gourmet Club:
No
Chet Baker returned to Europe in the mid 70's where he spent the rest of his life, performing there primarily but with occasional trips to Japan and short periods back in the USA. During this period living in Europe, Chet Baker recorded some amazing albums for Danish jazz label Steeplechase before his tragic death in Amsterdam, Netherlands in 1988.
Audiophile 180 Gram Vinyl
Pressed at Pallas in Germany
SteepleChase Audiophile Vinyl Series
Chet Baker, trumpet & vocal; Doug Raney, guitar; Orsted Pedersen bass. He shows how sweet it feels. Recorded live at Montmartre Copenhagen. Lyrical Jazz for sensitive people. "..from the famous scene of club Montmartre another captivating trio album is produced..." — Compacts.
Musicians:
Acoustic Bass – Niels-Henning Ørsted Pedersen
Trumpet – Chet Baker
Guitar – Doug Raney
Track Listing:
1. Gnid (Tadd Dameron)
2. Love Vibrations (Horace Silver)
3. Sad walk (Bob Zieff)
4. Someday my prince will come (Churchill/Morey)
5. I'm old fashioned (Jerome Kern)
6. In your own sweet way (Dave Brubeck)
Click here to listen to samples on YouTube.com ♫