The Cars Candy-O LP 180 Gram Vinyl Mobile Fidelity Sound Lab Limited Edition MoFi MFSL RTI USA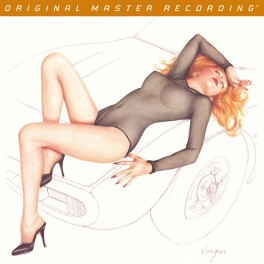 Maximize
The Cars emerged from the new wave scene in the late 1970s. The band was at the forefront in merging 1970s guitar-oriented rock with the new synthesizer-oriented pop that was then becoming popular and which flourished in the early 1980s. The Cars broke up in 1988 with several million records sold and many awards, being inducted into the Rock and Roll Hall of Fame in April 2018.
Limited Edition
Numbered Edition
180 Gram High Definition Vinyl pressed at RTI
Half-Speed mastering on MFSL Gain 2 Ultra Analog System
Mastered by Mobile Fidelity Sound Lab
Cut from the Original Analog Master Tapes
Mastered by Shawn R. Britton
Special Static Free & Dust Free Inner Sleeves
Deluxe heavy duty cover
The Cars Candy-O on Numbered-Edition 180g LP from Mobile Fidelity. Let's Go: Mastered from the Original Master Tapes, Mobile Fidelity Vinyl LP Will Get You Moving! The Cars' 1979 Sophomore Album a Must-Hear New-Wave Classic.

How did the Cars move beyond their smash 1978 debut (also available on Mobile Fidelity 180-gram LP) and secure their status as one of music's leading bands for years to come? Look no further than the quadruple-platinum Candy-O. Continuing along the streamlined pop paths of its predecessor, the sophomore effort is preoccupied with desirable women that are as mysterious, sexy, and cool as the group's music—and the record's pin-up cover.

With rare exception, few new-wave artists enjoyed much of a career outside of a one-hit wonder. Candy-O proves the Cars were anything but. It's loaded with minimalist atmospherics, pulsing bass lines, catchy refrains, and labyrinthine synthesizers that stick in your mind for days. And while retaining a simplicity that's a Cars hallmark, the album also takes myriad stylistic detours: the glam-rock accents of "Dangerous Type," a song whose title references the record's mysterious and lusty matter; the percolating riffs of the contagious title track; the dizzying garage-rock nature of the upbeat "Got a Lot on My Mind," complete with a tooting Farfisa organ. Nothing drags or feels out of place.

Through it all, vocalists Benjamin Orr and Ric Ocasek keep their heads about themselves, singing in direct albeit detached tones that convey the tension, excitement, and risky promise inherent in the lyrics. Hook-laced choruses abound. Yet all is not what it seems.

"Hooks are mechanical by nature, but the affectlessness of these deserves special mention; only listeners who consider "alienation is the craze" a great insight will find much meaning here. On the other hand, only listeners who demand meaning in all things will find this useless. Cold and thin, shiny and hypnotic, it's what [the Cars] do best--rock and roll that is definitely pop without a hint of cuteness."
–Robert Christgau, The Consumer Guide

Mastered from the original analog tapes, Mobile Fidelity's numbered-edition LP brings the Cars' distinctive melodies and exotic arrangements to the fore in ways that have never been heard outside of the recording studio. For the first time, Roy Thomas Baker's vocal production shines, with each member's contributions rescued from a cold sonic murk that detracted from the music's impact on both vinyl and the extremely compressed CD. Once you hear the newly uncovered dynamics and rich textures, you'll be wondering where they were all of these years. Chalk this up as an essential addition to your pop collection.
Track Listing:
01. Let's Go
02. Since I Held You
03. It's All I Can Do
04. Double Life
05. Shoo Be Doo
06. Candy-O
07. Nightspots
08. You Can't Hold on Too Long
09. Lust for Kicks
10. Got a Lot on My Head
11. Dangerous Type
Click here to listen to samples on YouTube.com ♫