The Cars LP 180 Gram Vinyl Mobile Fidelity Sound Lab Numbered Limited Edition MoFi MFSL RTI USA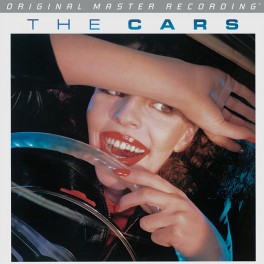 Maximize
The Cars emerged from the new wave scene in the late 1970s. The band was at the forefront in merging 1970s guitar-oriented rock with the new synthesizer-oriented pop that was then becoming popular and which flourished in the early 1980s. The Cars broke up in 1988 with several million records sold and many awards, being inducted into the Rock and Roll Hall of Fame in April 2018.
Limited Edition
Numbered Edition
180 Gram High Definition Vinyl pressed at RTI
Half-Speed mastering on MFSL Gain 2 Ultra Analog System
Mastered by Mobile Fidelity Sound Lab
Cut from the Original Analog Master Tapes
Mastered by Shawn R. Britton
Special Static Free & Dust Free Inner Sleeves
Deluxe Gatefold heavy duty cover
The Cars The Cars on Numbered-Edition 180g LP from Mobile Fidelity. Let the Good Times Roll: Mastered from the Original Master Tapes, Vinyl LP Sounds Amazing. The Cars' Classic 1978 Debut a Veritable Greatest Hits Album: Nearly Every Song a Radio Staple! "My Best Friend's Girl," "Just What I Needed," "You're All I've Got Tonight" Among the Tunes on the Hit Parade!

One of the most successful and enjoyable debuts in history, The Cars' self-titled album doubles as a greatest-hits collection. That's because not one song here is unrecognized or unknown. A huge reason why the Boston quintet became America's most popular new-wave band, The Cars launched eight tracks still regularly heard on radio stations everywhere. Consider the hit list: "You're All I've Got Tonight." "Good Times Roll." "Just What I Needed." "Moving in Stereo." "My Best Friend's Girl." "Don't Cha Stop." If you're a fan of pop music, this album is mandatory. Just call it the best new-wave rock album ever made.

Led by Ric Ocasek and Benjamin Orr, the Cars managed to unite then-disparate styles: bubblegum pop melodies, angular art rock, progressive arrangements, and terse minimalism. Orr's low, understated singing and Ocasek's cool, detached vocals lend shades of doubt and double meaning to the lyrics, which are further counterbalanced by orchestral keyboard flourishes and electronic beats. The brilliant arrangements also benefit from a laidback cool and understated irony that remain uncommon in the over-the-top world of mainstream music. Obsessed with incorporating the latest technologies and sounds into its palette, the band spiced its tunes with delightfully quirky accents—country-tinged guitar fills, echoing Syndrums, reggae splashes, hard-rock tones, robotic pulses.

The results are the sounds of a creative landmark. At once accessible and eccentric, edgy and catchy, The Cars explodes with emotion, energy, and hooks. It's impossible not to get caught up humming and singing along to every song, an appeal that comes courtesy of Roy Thomas Baker's stellar production. The legendary producer, best known for his work with Queen, ensured that the record seamlessly packed a smooth midrange, spacious imaging, and call-and-answer choruses in one tight package. Baker's trademark touches with harmony vocals abound.

And now, The Cars sounds better than it has in any previous incarnation. Mastered from the original analog tapes, Mobile Fidelity's numbered-edition LP allows the music's oscillating rhythms, futuristic keyboard passages, panned stereo images, and rippling textures to be experienced like never before. The songs take on a surreal quality, the Cars manipulating the vibrant music at will to mesmerize the listeners' senses and hold them at bay. Mobile Fidelity's unparalleled pressing epitomizes the sensation of "moving in stereo!"

"The MoFi disc is much better than the original in every way. It's more dynamic, much more natural on top, and all three dimensions have a lot bigger space. This disc is great from start to finish, but "Moving in Stereo" will blow you away on a great system in a big room." - Jeff Dorgay, TONE Audio
Track Listing:
1. Good Times Roll
2. My Best Friend's Girl
3. Just What I Needed
4. I'm in Touch With Your World
5. Don't Cha Stop
6. You're All I've Got Tonight
7. Bye Bye Love
8. Moving in Stereo
9. All Mixed Up
Click here to listen to samples on YouTube.com ♫