Eagles ‎Hell Freezes Over 2LP 180 Gram Vinyl Bernie Grundman Mastering 25th Anniversary Optimal 2019 EU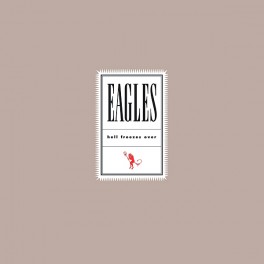 Maximize

Display all pictures
Artist:
Eagles
Title:
Hell Freezes Over
Catalog Number:
00602577189852
Label:
Geffen Records
Reissued by:
Geffen Records
Barcode:
602577189852
Edition:
25th Anniversary Edition
Original release year:
1994
Reissue year:
2019
Number of discs:
2
Revolutions per minute:
33⅓ rpm
Disc size:
12"
Vinyl Weight Grade:
180gr
Total Item Weight:
523gr
Pressing country:
Germany
For Market Release in:
EU
Added to catalog on:
March 20, 2019
Shipping Restriction:
No Pickup
Note:
Never eligible for any further discounts
Vinyl Gourmet Club:
No
Originally released in 1994 following a 14 year-long break up, Eagles Hell Freezes Over celebrates its 25th anniversary with a remastered reissue. Long out of print on vinyl the album has been remastered by Bob Ludwig and pressed on 2LP 180 Gram Vinyl cut by Chris Bellman at Bernie Grundman Mastering. It contains four studio tracks and eleven tracks recorded live in April 1994 for MTV.
25th Anniversary Edition
2LP 180 Gram Vinyl
Remastered by Bob Ludwig
Cut by Chris Bellman
Cut at Bernie Grundman Mastering
Pressed at Optimal Media, Germany
Hell Freezes Over is the Eagles' historic April 1994 reunion that resulted in a 9-times platinum album that spent 2 weeks atop the charts and spawned a mega-successful 2-year tour. Geffen/UMe celebrates the 25th anniversary of this momentous reissue of Hell Freezes Over on double 180-gram black vinyl.

Long out of print on vinyl, the Eagles' momentous 1994 reunion album Hell Freezes Over sounds better than ever on this high-grade double 180-gram vinyl LP pressing remastered by Bob Ludwig. The album features the band's line-up of the last studio album before their extended hiatus, 1979's The Long Run: drummer/vocalist Don Henley, guitarist/vocalist Glenn Frey, guitarist/vocalist Joe Walsh, guitarist/vocalist Don Felder and bassist/vocalist Timothy B. Schmit. Hell Freezes Over contains four new studio tracks and 11 live recordings from the Eagles' sessions at Warner Burbank Studios in Burbank, CA, recorded on April 25-26, 1994, and which became a top-rated MTV special.

Produced by the Eagles with Elliot Scheiner and Rob Jacobs, the album went on to spend two weeks at the top of the US charts and went nine-times platinum in America alone; it was also seven-times platinum in Japan and platinum in the UK and Norway. Hell Freezes Over inspired a massively successful two-year tour by the reunited quintet. It included the ballad and Adult Contemporary chart No. 1 "Love Will Keep Us Alive," written by British artists Paul Carrack and the late Jim Capaldi with countryman Peter Vale. The album also featured the Burbank versions of such band favorites as "Take It Easy," "Desperado," "Tequila Sunrise" and the acoustic reworking of "Hotel California."
Musicians:
Bass, Vocals – Timothy B. Schmit
Drums, Percussion, Vocals – Don Henley
Guitar, Organ, Vocals – Joe Walsh
Guitar, Piano, Keyboards, Vocals – Glenn Frey
Guitar, Vocals – Don Felder
Horn, Strings [Arrangement] – Don Davis, Eagles, Jay Oliver
Keyboards – Jay Oliver
Keyboards, Guitar, Vocals – John Corey
Keyboards, Vocals – Timothy Drury
Percussion – Gary Grimm, Paulinho Da Costa, Stan Lynch
Percussion, Drums – Scott Crago
Track Listing:

Side A
01. Get Over It
02. Love Will Keep Us Alive
03. The Girl From Yesterday
04. Learn To Be Still

Side B
05. Tequila Sunrise
06. Hotel California
07. Wasted Time
08. Pretty Maids All In A Row

Side C
09. I Can't Tell You Why
10. New York Minute
11. The Last Resort

Side D
12. Take It Easy
13. In The City
14. Life In The Fast Lane
15. Desperado