Neil Young Neil Young LP 180 Gram Vinyl Official Release Series Bernie Grundman Pallas Reprise USA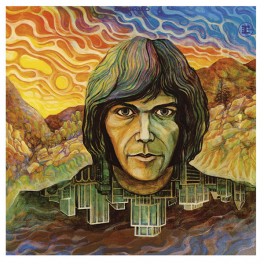 Maximize
Audiophile reissue cut and remastered by Chris Bellman at Bernie Grundman Studios from the Original Analog Master Tapes directly under the supervision of Neil Young. Pressed at Pallas in Germany comes in a gatefold cover with exact reproduction of the Original Artwork. Timeless music, a true rock classic that looks and sounds great!
Pressed on High Quality 180gr Vinyl at Pallas in Germany
Remastered and cut from the Original Analog Master Tapes
Remastered under the direct supervision of Neil Young
Cut by Chris Bellman at Bernie Grundman Mastering Studios in Hollywood, CA
Exact Reproduction of the Original Gatefold Artwork
Includes Fold-Out poster with Neil's Hand-Written Lyrics
As Neil Young's self-titled solo debut hits the half-century mark, the collection's transitional significance is undeniable. Recorded shortly after the collapse of Buffalo Springfield, the set was described by Rolling Stone's reviewer as "in many ways, a delightful reprise of that Springfield sound done a new way," and both the country-tinged "The Emperor Of Wyoming" and Jack Nitzsche's string arrangements recall the legendary band. But Young's eagerness to try new things (like the backing vocals on "The Old Laughing Lady"), the buzzing electric guitar of "The Loner" and of course that haunting, fragile voice would quickly become hallmarks of the singer-songwriter. An auspicious start to a long and distinguished career, NEIL YOUNG is heartfelt, ambitious and well worth revisiting.
Neil Young sought a fresh start after breaking in 1968 from Buffalo Springfield, the group that he anchored with inimitable guitar playing and increasingly adventurous songwriting. Released in early 1969, the Canadian legend's self-titled debut is a grand statement of purpose, both a declaration of staunch independence and a mature announcement that Young would be a force to be reckoned with on his own and on his own terms. Seldom has an initial album so successfully encompassed and foretold greatness.

Meticulously transferred from the original analog master tapes using the finest equipment. This is the world's introduction to bare, totally exposed Neil Young. Having left Buffalo Springfield, his collaboration with Stephen Stills, this 1969 solo debut is an album full of brooding but pretty songs including "The Loner." Neil Young was one of the first solo records by a rock and roll figure.

Though his only album not to chart - "The Loner" is the most memorable track - this is the record that bridged what was and what was to be. Neil Young marked the launching point of an illustrious solo career.

Produced by Young and his longtime associate David Briggs, Young's solo debut also continued his association with producer/composer/arranger Jack Nitzsche, with whom he had made "Expecting To Fly" on the Buffalo Springfield Again album. Young's folk-rock instrumentation is augmented by discreet string parts. Also onboard stylistically is the country and western overtones that were present in Buffalo Springfield's sound. Instrumentation includes a variety of guitars, pianos, organs and strings.

Hearing Neil Young's debut with the context of having heard 40 years worth of his material, it's exciting and revealing to literally hear him search for and at least partially settle on his voice on this record.
Track Listing:

01. The Emperor of Wyoming
02. The Loner
03. If I Could Have Her Tonight
04. I've Been Waiting For You
05. The Old Laughing Lady
06. String Quartet From Whiskey Boot Hill
07. Here We Are In The Years
08. What Did You Do To My Life
09. I've Loved Her So Long
10. The Last Trip To Tulsa
Click here to listen to samples on YouTube.com ♫