Ben Webster And Associates 2LP 45rpm 180g Vinyl Original Recordings Group Numbered Limited Edition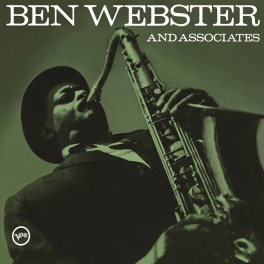 Maximize

Display all pictures
Artist:
Ben Webster
Title:
And Associates
Catalog Number:
ORG 116 / MGV-8318
Label:
Verve
Reissued by:
ORG Original Recordings Group
Barcode:
858492002169
Original release year:
1959
Reissue year:
2012
Number of discs:
2
Revolutions per minute:
45 rpm
Disc size:
12"
Vinyl Weight Grade:
180gr
Limited Edition:
Yes
Numbered Edition:
Yes
Total Item Weight:
679gr
Pressing country:
USA
For Market Release in:
USA
Added to catalog on:
July 28, 2014
Note:
Never eligible for any further discounts
Vinyl Gourmet Club:
No
Tenor Titans Ben Webster, Coleman Hawkins, and Budd Johnson are joined by trumpeter Roy Eldridge, bassist Ray Brown and more. Ben Webster is at the Top of his Game, this is a phenomenal Jazz Session. Limited edition, 2500 units pressed worldwide, mastered by Bernie Grundman from the Original Analog Master Tapes and pressed to 180g audiophile vinyl.
Limited Edition
Numbered Edition (below #500)
Pressing Limited to 2500 Units Worldwide
Deluxe Laminated Gatefold Cover
Double LP Audiophile 180 grams Vinyl Pressed at RTI USA
Mastered by Bernie Grundman
Mastered from the Original Analog Master Tapes


While it is difficult to single out just one of the musicians, it is easy to distinguish them: Ben (called "The Brute") plays with a raspy, vibrating sound; Coleman (known as "The Bear") is a master of flowing swing; and Budd has an earthy, resonant bluesy sound. The five numbers reflect the jam-like spontaneity of the 1959 session; an Ellington classic by the three in a masterful, inspirational new interpretation; three pieces which are intrinsically and hoc improvisations; and a classical ballad in which Ben Webster breathes warmth and sentiment into his instrument.

"Ben Webster and Associates is a 1959 session that took full advantage of the long-playing LP format. Highlighted by the 20-minute version of Ellington's "In a Mellow Tone" in which tenor titans Ben Webster, Coleman Hawkins, and Budd Johnson plus trumpeter Roy Eldridge stretch out, not so much in a cutting contest as a laid-back jam session amongst friends. This summit meeting turned out to be a tribute to another tenor master of the same generation, Lester Young, who had died less than four weeks before this session. The chosen rhythm section of Jimmy Jones on piano, Les Spann on guitar, Ray Brown on bass, and Jo Jones on drums equally matches the performance of the featured horns. Also tackled for this session were three Webster originals: "De-Dar," "Young Bean," and "Budd Johnson" and the standard "Time After Time." - Al Campbell, AllMusic


Musicians:

Ben Webster, tenor saxophone
Coleman Hawkins, tenor saxophone
Budd Johnson, tenor saxophone
Roy Eldridge, trumpet
Jimmy Jones, piano
Les Spann, guitar
Ray Brown, bass
Jo Jones, drums

Track Listing:

LP 1 Side A
1. In A Mellow Tone

LP 1 Side B
1. Young Bean
2. Budd Johnson

LP 2 Side C
1. Time After Time
2. De-Dar

LP 2 Side D
1. In A Mellow Tone (Repeat of LP1 - Side A)

Recorded in New York City April 9, 1959.

Click here to listen to samples on YouTube.com ♫