Sibelius Symphony No.2 Kletzki LP 180 Gram Vinyl Philharmonia Orchestra EMI Hi-Q Records Supercuts EU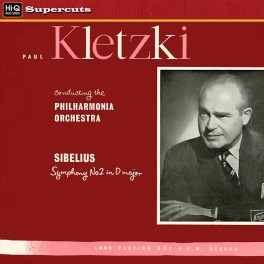 Maximize
Artist:
Paul Kletzki
Title:
Sibelius Symphony No.2
Catalog Number:
HIQLP026
Label:
EMI
Reissued by:
Hi-Q Records
Barcode:
5060218890263
Original release year:
1959
Reissue year:
2012
Number of discs:
1
Revolutions per minute:
33⅓ rpm
Disc size:
12"
Vinyl Weight Grade:
180gr
Total Item Weight:
268gr
Pressing country:
EU
For Market Release in:
EU
Added to catalog on:
February 1, 2019
Note:
Never eligible for any further discounts
Vinyl Gourmet Club:
No
Hi-Q Records specializes in high quality reissues of EMI Classical recordings, faithfully mastered from the Original EMI Analog Master Tapes, cut at Abbey Road Studios and pressed on the original EMI presses now working at The Vinyl Factory in Hayes, England. These are historic performances and great EMI recordings pressed on high quality 180 Gram Vinyl.
Hi-Q Records Supercuts
180 Gram Audiophile Vinyl
Cut from the Original EMI Analog Master Tapes
Mastered at Abbey Road Studios
Features Original Album Artwork
"Cut at Abbey Road Studios from the original stereo analogue master tapes with the Neumann VMS82 lathe fed an analogue pre-cut signal from a specially adapted Studer A80 tape deck with additional 'advance' playback head, making the cut a totally analogue process. Pressed using the original EMI presses at The Vinyl Factory in Hayes, England"
Paul Kletzki is best remembered today for his conducting career and many recordings but less well known is his pre-war career as a composer. Born in Poland in 1900, he joined its Philharmonic Orchestra at the age of fifteen as a violinist. After serving in the First World War, he studied philosophy at the University of Warsaw before moving to Berlin in 1921 to continue his studies. During the 1920s his compositions were championed by Arturo Toscanini; and Wilhelm Furtwängler, who permitted Kletzki to conduct the Berlin Philharmonic Orchestra in 1925.

Because he was Jewish, he left Nazi Germany in 1933 and moved to Italy, however due to the anti-semitism of the Italian Fascist regime he moved to the Soviet Union in 1936. He later went to live in Switzerland. From 1942 onwards Kletzki wrote no more compositions; having lost much of his family in the holocaust, Nazism had destroyed his spirit and his will to compose.

His conducting skills then came to the fore. Kletzki was invited by EMI's Walter Legge to conduct the newly-formed Philharmonia Orchestra in London and many fine recordings were made (including this Sibelius record in early stereo) for EMI. In 1954 he was appointed chief conductor of the Liverpool Philharmonic Orchestra and between 1958 and 1961 he was principal conductor of the Dallas Symphony Orchestra. From 1966 until 1970 he was the General Music Director of the Orchestre de la Suisse Romande. He died in 1974.

In the original June 1956 review M. M. of the GRAMOPHONE wrote: "Kletzki makes an impetuous attack on the music which is virtually completely successful, carried along by a marvellous quality of both orchestral playing and recording... Whether it is a sweep of full-bodied tone, a biting attack, a resonant pizzicato, or a sensitive solo that is called for, it is always there; even to tunes from the basses with a distinctly above-average proportion of note to rumble. And all of it set off by a brilliant quality of recording with fine internal balance... The new Kletzki... addresses the listener directly and convincingly."

Recorded in stereo on 15 & 16 July 1955 at the Kingsway Hall, London. Produced by the legendary Walter Legge and engineered by Douglas Larter and Neville Boyling.

Musicians:
Paul Kletzki, conductor
Philharmonia Orchestra

Track Listing:

Jean Sibelius (1865 - 1957)
Symphony No. 2 in D Major, Op. 43

Side A
1. I. Allegretto
2. II. Tempo Andante, ma rubato
1. III. Vivacissimo

Side B
2. IV. Finale (Allegro moderato)