Hank Mobley's 2nd Message LP 180 Gram Vinyl Prestige Mono Kevin Gray Analogue Productions QRP USA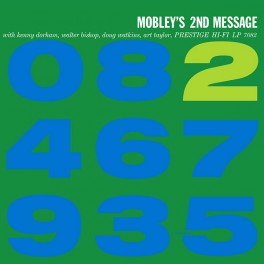 Maximize
Ultimate audiophile Prestige reissues from Analogue Productions. Some of the most collectible, rarest and best sounding Rudy Van Gelder recordings ever made. All cut from the Analog Original Master Tapes by Kevin Gray. Pressed on 180 gram vinyl at state-of-the-art plant Quality Record Pressings and plated by Gary Salstrom. Deep groove label pressings, tip-on covers on thick cardboard stock.
Limited Edition
Analogue Productions Prestige Mono Series
180 Grams Audiophile Vinyl
Mastered by Kevin Gray at Cohearent Audio
Cut from Original Analog Mono Master Tapes
Plated by Gary Salstrom
Pressed at Quality Record Pressings (QRP USA)
Deluxe high-gloss tip-on album cover
The session for Mobley's 2nd Message was recorded in July 1956, just one week after Mobley's Message was recorded. The album features performances by Mobley, Kenny Dorham, Walter Bishop, Doug Watkins, and Art Taylor. Hank Mobley was an American hard bop and soul jazz tenor saxophonist and composer. Mobley was described by Leonard Feather as the "middleweight champion of the tenor saxophone," a metaphor used to describe his tone, that was neither as aggressive as John Coltrane nor as mellow as Stan Getz, and his style that was laid-back, subtle and melodic, especially in contrast with players like Sonny Rollins and Coltrane. The critic Stacia Proefrock claimed he is "one of the most underrated musicians of the bop era."

"Analogue Productions has continued to push its own already high bar higher still. Its Quality Record Pressings plant is delivering the best vinyl discs to be found, its jackets and cover reproduction quality have hit new levels, and it continues to have the best in the biz — such as Kevin Gray for this series (25 mono LPs from the Prestige label's exceptional late-50s run) cut lacquers from original analog master tapes. ... The set crackles with energy and the sound is rather cool, yet it's very clean and — like looking through a mountain stream — transparent. I also have AP's 2002 45 RPM set, and this new release makes that one sound a bit thick and veiled by comparison." — Wayne Garcia, The Absolute Sound
Musicians:
Hank Mobley, tenor saxophone
Kenny Dorham, trumpet
Walter Bishop, piano
Doug Watkins, bass
Arthur Taylor, drums

Track Listing:
1. The Latest
2. Crazeology
3. I Should Care
4. Message from the Border
5. Xlento
6. These Are the Things I Love
Click here to listen to samples on YouTube.com ♫