Duke Ellington Meets Coleman Hawkins 2LP 45rpm 180g Vinyl Kevin Gray Impulse! Analogue Productions USA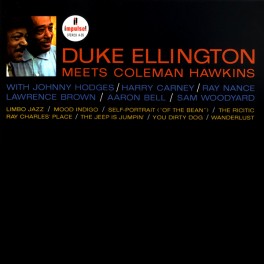 Maximize
The best albums from legendary Impulse Records jazz catalogue get impeccable audiophile treatment by Analogue Productions, cut at 45rpm for ultimate sound quality by equaly legendary mastering engineer Kevin Gray at Cohearent Audio, preserving all the analog glory of the Original Master Tapes to bring these sessions to life in spectacular fashion, like they deserve.
Limited Edition
Numbered Edition
Mastered by Kevin Gray
Mastered at Cohearent Audio

Audiophile All Analog cut

2LP 45rpm 180 Gram Vinyl

Pressed at RTI USA

Deluxe Gatefold Cover
Collaborative albums such as this one have always been something of a stunt on the part of the record label, with the artists themselves usually stuck with too little time to work out something that would easily act as a functional compromise. Many of these albums, then, have faded away with time. Impulse, however, had more than its share of solid collaborations. This one is a lot of fun, whether it's the daffy cut-up of "Limbo Jazz" or the slow New Orleans smoke of "Wanderlust." All present turn in nice performances on this set of Ellington numbers.

"This set documents a historic occasion. Although Coleman Hawkins had been an admirer of Duke Ellington's music for at least 35 years at this point and Ellington had suggested they record together at least 20 years prior to their actual meeting in 1962, this was their first (and only) meeting on record. Although it would have been preferable to hear the great tenor performing with the full orchestra, his meeting with Ellington and an all-star group taken out of the big band does feature such greats as Ray Nance on cornet and violin, trombonist Lawrence Brown, altoist Johnny Hodges, and baritonist Harry Carney. High points include an exuberant "The Jeep Is Jumpin'," an interesting remake of "Mood Indigo," and a few new Ellington pieces. This delightful music is recommended in one form or another." - Scott Yanow, All Music
Musicians:
Alto Saxophone – Johnny Hodges
Baritone Saxophone, Bass Clarinet – Harry Carney
Bass – Aaron Bell
Cornet, Violin – Ray Nance
Drums – Sam Woodyard
Piano – Duke Ellington
Tenor Saxophone – Coleman Hawkins
Trombone – Lawrence Brown

Track Listing:
1. Limbo Jazz
2. Mood Indigo
3. Ray Charles' Place
4. Wanderlust
5. You Dirty Dog
6. Self Portrait (Of the Bean)
7. The Jeep Is Jumpin'
8. The Ricitic
9. Solitude
Click here to listen to samples on YouTube.com ♫