The Soul Of Ben Webster 2LP 45rpm 180 Gram Vinyl Verve Sterling Sound Analogue Productions QRP USA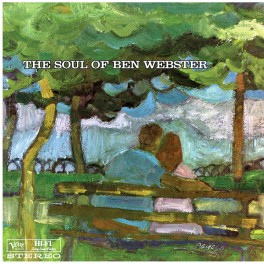 Maximize
Artist:
Ben Webster
Title:
The Soul Of Ben Webster
Catalog Number:
AP-6124
Label:
Verve
Reissued by:
Analogue Productions
Barcode:
753088612411
Original release year:
1960
Reissue year:
2013
Number of discs:
2
Revolutions per minute:
45 rpm
Disc size:
12"
Vinyl Weight Grade:
180gr
Limited Edition:
Yes
Total Item Weight:
594gr
Pressing country:
USA
For Market Release in:
USA
Added to catalog on:
January 16, 2019
Collection:
Analogue Productions Verve Series
Note:
Never eligible for any further discounts
Vinyl Gourmet Club:
Yes
The best albums from legendary Verve Records jazz catalogue get impeccable audiophile treatment by Analogue Productions, cut at 45rpm for ultimate sound quality by equaly legendary mastering engineer George Marino at Sterling Sound, preserving all the analog glory of the Original Master Tapes to bring these sessions to life in spectacular fashion, like they deserve.
Limited Edition
Double LP 45rpm on 180 Gram Vinyl
Pressed at QRP USA
Mastered by George Marino at Sterling Sound
Cut from the Original Analog Master Tapes
"...these are all truly classic Verve titles that you simply don't want to miss...most importantly, the sound of these reissues is nothing short of astounding. Particularly the early Billie and Ella mono records are incredible treasures of sonic beauty. I'd definitely ask Santa for the whole set, or, if you want to cherry pick, the most classic titles. Whatever you decide, you owe yourself at least a half dozen!" Winner of a 2012 Positive Feedback Online Writers' Choice Award - Danny Kaey, Positive Feedback Online
In away, the story of Ben Webster's saxophone career is the story of jazz music itself through decades of experience. Here we hear a blowing session that matches him with fellow tenorist Harold Ashby in a program of loose originals.

Originally released on Verve Records in 1960, The Soul Of Ben Webster is a prime Norman Granz-produced blowing session that sees tenor saxophone great Ben Webster matching musical wits with fellow tenorist Harold Ashby and inventive trumpeter Art Farmer amidst further accompaniment from Jimmy Jones (piano), Mundell Lowe (guitar), Milt Hinton (bass) and Dave Bailey (drums). The loose 7-song set features five Webster originals ("Fajista," "Charlotte's Piccolo," "Coal Train," "Ev's Mad," "Ash") and a pair of standout numbers from Billy Strayhorn ("Chelsea Bridge") and Edward Heyman/Victor Young ("When I Fall In Love").
Musicians:
Ben Webster, tenor saxophone
Harold Ashby, tenor saxophone
Art Farmer, trumpet
Jimmy Jones, piano
Mundell Lowe, guitar
Milt Hinton, bass
Dave Bailey, drums

Track Listing:
1. Fajista
2. Chelsea Bridge
3. Charlotte's Piccolo
4. Coal Train
5. When I Fall In Love
6. Ev's Mad
7. Ash
Click here to listen to samples on YouTube.com ♫