Coleman Hawkins And Confrères 2LP 45rpm 200 Gram Vinyl Verve Sterling Analogue Productions QRP USA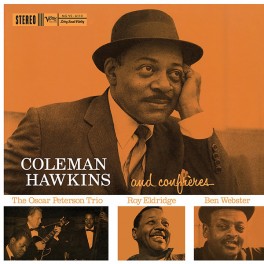 Maximize
Artist:
Coleman Hawkins
Title:
Coleman Hawkins And Confrères
Catalog Number:
AP-6110
Label:
Verve
Reissued by:
Analogue Productions
Barcode:
753088611018
Original release year:
1960
Reissue year:
2012
Number of discs:
2
Revolutions per minute:
45 rpm
Disc size:
12"
Vinyl Weight Grade:
200gr
Limited Edition:
Yes
Total Item Weight:
550gr
Pressing country:
USA
For Market Release in:
USA
Added to catalog on:
January 15, 2019
Collection:
Analogue Productions Verve Series
Note:
Never eligible for any further discounts
Vinyl Gourmet Club:
No
The best albums from legendary Verve Records jazz catalogue get impeccable audiophile treatment by Analogue Productions, cut at 45rpm for ultimate sound quality by equaly legendary mastering engineer George Marino at Sterling Sound, preserving all the analog glory of the Original Master Tapes to bring these sessions to life in spectacular fashion, like they deserve.
Limited Edition
Double LP 45rpm on 200 Gram Vinyl
Pressed at QRP USA
Mastered by George Marino at Sterling Sound
Cut from the Original Analog Master Tapes
"...these are all truly classic Verve titles that you simply don't want to miss...most importantly, the sound of these reissues is nothing short of astounding. Particularly the early Billie and Ella mono records are incredible treasures of sonic beauty. I'd definitely ask Santa for the whole set, or, if you want to cherry pick, the most classic titles. Whatever you decide, you owe yourself at least a half dozen!" Winner of a 2012 Positive Feedback Online Writers' Choice Award - Danny Kaey, Positive Feedback Online
Ben Webster had long before passed through the ranks of imitator, then pupil and finally master. His "college attendance," as one might put it, in the Duke Ellington Orchestra gave him a sureness of expression in his great showpieces and he also learned to hold his own against such musical giants as Paul Gonsalves and Jimmy Hamilton. "Hawk" was able to thoroughly enjoy his fame in numerous Jazz At The Philharmonic concerts given all over the world, where, of course, he had to assert himself against many other saxophone players. Two such JATP ensembles are to be found on the Confrères LP. The relaxed atmosphere is particularly noticeable in the title "Sunday" in which Roy Eldridge comes into the limelight with a brilliant solo. And just listen to George Buvivier's marvelous bass playing (in "Nabab!") where he certainly has no reason to hide in the shadow thrown by Ray Brown. Coleman Hawkins' voluminous, supple sound which had a great influence on the styles of musicians ranging from Dexter Gordon and Sonny Rollins up to Joe Lovano, is best heard after Roy's solo in "Honey Flower."
Musicians:
Coleman Hawkins, Ben Webster, tenor saxophones
Oscar Peterson, piano
Herb Ellis, guitar
Ray Brown, bass
Alvin Stoller, drums (on Maria)
Roy Eldridge, trumpet
Hank Jones, piano
George Duvivier, bass
Mickey Sheen, drums

Track Listing:
1. Maria
2. Sunday
3. Hanid
4. Honey Flower
5. Nabob
Click here to listen to samples on YouTube.com ♫