John Patton ‎Along Came John 2LP 45rpm 180 Gram Vinyl Blue Note Records Analogue Productions RTI USA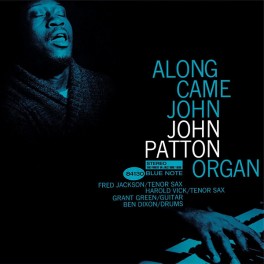 Maximize
The best albums from legendary Blue Note Records jazz catalogue get impeccable audiophile treatment by Analogue Productions, cut at 45rpm for ultimate sound quality by equaly legendary mastering engineers Kevin Gray and Steve Hoffman at AcousTech, preserving all the analog glory of the Original Master Tapes to bring these sessions to life in spectacular fashion, like they deserve.
Limited Edition
Numbered Edition
Mastered from the Original Analog Master Tapes
Cut by Kevin Gray and Steve Hoffman
Mastered at AcousTech
2LP 180 Gram Virgin Vinyl 45rpm
Pressed by RTI USA
"…As much as I'd love to relay all kinds of anecdotes about the challenges Steve Hoffman and Kevin Gray encounter during the mastering sessions, I witness none. These boys know the sound of the facility and the Van Gelder masters like the backs of their hands…Back home a month later, I unpack some test pressings Chad Kassem has sent me…I hear the most realistic-sounding drums ever reproduced by my system. It's as though I'm sitting at the point of creation, experiencing the same high that brought such gifted musicians together as one. Steve Hoffman, Kevin Gray, Chad Kassem, and Don MacInnis have done Rudy Van Gelder and his Blue Note artists proud." – Jason Victor Serinus, Stereophile
John Patton, Grant Green and Ben Dixon were introduced to Blue Note by Lou Donaldson and quickly became the quintessential rhythm section for Blue Note's funkier session. They came together for this, John Patton's first album, with two of the label's tenor saxophonists Fred Jackson and Harold Vick. The double tenors and organ trio make an unbeatable combination for some soulful, swinging music. The title tune and "The Silver Meter" were radio hits that remain among the most popular of Patton's recorded performances.
"By the time John Patton recorded Along Came John, his debut as a leader, he had already become a familiar name around the Blue Note studios. He, guitarist Grant Green, and drummer Ben Dixon had become the label's regular soul-jazz rhythm section, playing on sessions by Lou Donaldson, Don Wilkerson, and Harold Vick, among others. They had developed an intuitive, empathetic interplay that elevated many of their sessions to near-greatness, at least in the realm of soul-jazz. That's one of the reasons why Along Came John is so successful -- the three know each other so well that their grooves are totally natural, which makes them quite appealing. These original compositions may not all be memorable, but the band's interaction, improvisation, and solos are. Tenor saxophonists Fred Jackson and Harold Vick provide good support, as well, but the show belongs to Patton, Green, and Dixon, who once again prove they are one of the finest soul-jazz combos of their era." - Thomas Erlewine, All Music
Musicians:
John Patton, organ
Grant Green, guitar
Ben Dixon, drums
Fred Jackson, tenor saxophone
Harold Vick, tenor saxophone
Track Listing:
1. The Silver Meter
2. I'll Never Be Free
3. Spiffy Diffy
4. Along Came John
5. Gee Gee
6. Pig Foots
Click here to listen to samples on YouTube.com ♫