Tchaikovsky 1812 Overture LP 180g Vinyl Cincinnati Symphony Orchestra Erich Kunzel Telarc Records USA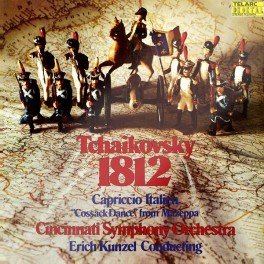 Maximize

Display all pictures
Artist:
Tchaikovsky
Title:
1812 Overture
Catalog Number:
TEL00009
Label:
Telarc
Reissued by:
Telarc
Barcode:
888072006300
Original release year:
1979
Reissue year:
2018
Number of discs:
1
Revolutions per minute:
33⅓ rpm
Disc size:
12"
Vinyl Weight Grade:
180gr
Total Item Weight:
370gr
Pressing country:
Germany
For Market Release in:
USA
Added to catalog on:
December 29, 2018
Note:
Never eligible for any further discounts
Vinyl Gourmet Club:
No
Telarc's Tchaikovsky 1812 Overture is a landmark in American classical music recordings. The grooves on the record are so violently wavy and far apart that it's almost as fun to look at the record spinning as it is to listen to it. This is the best selling Telarc record of all time, and remains an incredible musical and sonic experience bound to take you, and your system, to new heights!
180 Gram Audiophile Vinyl pressed by Optimal, Germany
Cut by Eric Boulanger at The Bakery Mastering
Cut on Stan Ricker's original equipment
Gatefold Cover
Craft Recordings is honoring the legacy of Telarc Records by re-releasing four of the most famous titles in the label's long and storied catalog on vinyl LP for the first time in over 35 years. Erich Kunzel conducts the Cincinnati Symphony Orchestra for this recording of Tchaikovsky's 1812 Overture, Op. 49 alongside Capriccio Italien, Op. 45 and Cossack Dance from "Mazeppa".

Tchaikovsky's 1812 Overture - Telarc's all-time, best-selling recording - is an audiophile's dream. The superb playing of the Cincinnati Pops under the baton of multi-award-winning conductor Erich Kunzel, combined with Telarc's sound effects (including nineteenth-century cannons), make this title an unbeatable and truly authentic performance.

This LP was cut, as are all the others, by Eric Boulanger on Stan Ricker's (who cut the original master) own equipment (with some slight modifications), which Boulanger bought from Ricker's estate. The dynamic range of this recording presented challenges to Boulanger in keeping the audio as fully dynamic as the original while keeping the sound as close to the original as possible.

In 1978, Bob Woods and Jack Renner took the first of many risks that are characteristic of Telarc's history. On the cutting edge of recorded sound technology, they made the first commercial classical recordings in the U.S. in the digital format. One of those recordings was the now legendary Tchaikovsky 1812 Overture, performed by Erich Kunzel and the Cincinnati Pops Orchestra. The recording featured the first-ever digitally recorded live sound effects-digital cannons.

When the 1812 was released, the cover read "Caution! Digital Cannons," and the interior of the booklet warned the listener that "the cannons of the Telarc 1812 Overture are recorded at a very high level. Lower levels are recommended for initial playback until a safe level can be determined for your equipment." Reviewers also issued cautions: "Just be sure the volume isn't so loud that one of the shots spreads pieces of speaker cone all over your floor," (Digital Audio); and "Its peaks would crack your window panes and maybe your speaker cones, too." (Knight-Ridder Newspapers). The disc became Telarc's best-selling recording of all time, with over 800,000 copies sold, and for well over a decade has been the audio demo disc of choice.
Cincinnati Symphony Orchestra
Erich Kunzel, conductor
Peter Ilyich Tchaikovsky (1840-1893)

Side A
1. "1812" Overture, Op. 49

Side B
1. Capriccio Italien, Op. 45
2. Cossack Dance From Mazeppa
Click here to listen to samples on YouTube.com ♫