Tina Brooks True Blue Music Matters 180 Gram Vinyl LP 33rpm Limited Edition Kevin Gray Blue Note USA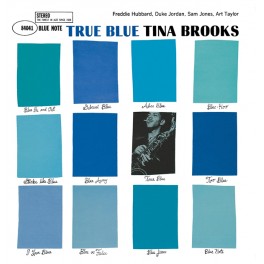 Maximize

Display all pictures
From Music Matters impressive 33rpm Reissue Series, one of the best Blue Note titles and memorable Tina Brooks session recorded by Rudy Van Gelder. Audiophile mastering from Original Analog Master Tapes by Kevin Gray at Cohearent Audio on 33rpm 180 grams virgin vinyl pressed at RTI and presented in a luxurious gatefold cover with stunning high resolution session photos.

Limited Edition of Only 3500 Copies
Cut from the Original Rudy Van Gelder Blue Note Stereo Master Tapes
Remastered by Kevin Gray at Cohearent Audio
100% Analog Mastering and Cutting
Pressed on 180gr Virgin vinyl by RTI
Deluxe gatefold cover with high resolution session photos
"Tina Brooks' passionate full sound and forward-looking style, along with his exceptional compositional gifts, made him a powerful force during his prime years. Brooks' star burned with intense brightness for a brief period before disappearing in the same tragic manner of too many other young bop players of the time. Even many of the most dedicated jazz fans missed Brooks' recordings, the best of which were simply extraordinary.

A soulful hard bop tenor-saxophonist with an original sound and fresh ideas of his own, Brooks (1932-74) had a brief life. He started out playing with Amos Milburn and Lionel Hampton. The prime of his career was during 1958-61 when he recorded four albums for Blue Note, including his most significant recording, True Blue. True Blue has long been one of the most sought-after Blue Notes of all time. Recorded in June, 1960, True Blue showcases Brooks along with the young firebrand trumpeter Freddie Hubbard (in one of his earliest sessions), pianist Duke Jordan, bassist Sam Jones and drummer Art Taylor in a set of highly inventive originals. True Blue gives listeners plenty of proof of Tina Brooks' majestic sound and soulful writing prowess. For many aficionados of the Blue Note label, True Blue is the very essence of the Blue Note sound and feel."

Track Listing:

1. Good Old Soul
2. Up Tight's Creek
3. Theme For Doris
4. True Blue
5. Miss Hazel
6. Nothing Ever Changes My Love For You

Musicians:

Tina Brooks, tenor sax
Freddie Hubbard, trumpet
Duke Jordan, piano
Sam Jones, bass
Art Taylor, drums

Click here to listen to samples on AllMusic.com ♫