Billie Holiday ‎Songs For Distingué Lovers 2LP 45rpm 200 Gram Vinyl Verve Analogue Productions QRP USA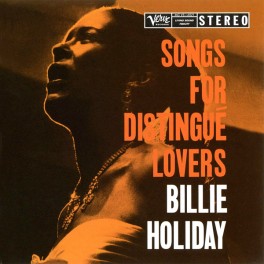 Maximize
Artist:
Billie Holiday
Title:
Songs For Distingué Lovers
Catalog Number:
AP-6021
Label:
Verve
Reissued by:
Analogue Productions
Barcode:
753088602115
Original release year:
1958
Reissue year:
2012
Number of discs:
2
Revolutions per minute:
45 rpm
Disc size:
12"
Vinyl Weight Grade:
200gr
Limited Edition:
Yes
Total Item Weight:
599gr
Pressing country:
USA
For Market Release in:
USA
Added to catalog on:
October 25, 2018
Collection:
Analogue Productions Verve Series
Note:
Never eligible for any further discounts
Vinyl Gourmet Club:
Yes
Legendary Normam Granz production featuring Billie Holiday's darkened and deep voice with iconic accompaniment from the likes of Harry Edison (trumpet), Ben Webster (tenor sax), Jimmy Rowles (piano), Barney Kessel (guitar), Red Mitchell (bass) and Alvin Stoller (drums). Another brilliant Verve reissue from Analogue Productions, impressively cut by George Marino at Sterling Sound.
Limited Edition
Double LP 45rpm on 200 Gram Vinyl
Pressed at QRP USA
Mastered by George Marino at Sterling Sound
Cut from the Original Analog Master Tapes
"The song selection is incredible, the musicians are world class, and the recording is wonderful. Many feel this was her best studio album and Analogue Productions has taken this great LP to a whole new level. They have given it to us on dynamic 45 RPM LPs and a dead quiet pressing. I really like this album and it's so nice to have such great music sounding so good. My highest recommendation!" — Jack Roberts, dagogo

"...these are all truly classic Verve titles that you simply don't want to miss...most importantly, the sound of these reissues is nothing short of astounding. Particularly the early Billie and Ella mono records are incredible treasures of sonic beauty. I'd definitely ask Santa for the whole set, or, if you want to cherry pick, the most classic titles. Whatever you decide, you owe yourself at least a half dozen!" Winner of a 2012 Positive Feedback Online Writers' Choice Award - Danny Kaey, Positive Feedback Online

It is undeniable that Billie Holiday's singing changed in her later years. Her voice darkened and shifted to a lower range. Her economy of means distilled her sound to its expressive essence - a kind of heightened speech. The classic LP Songs For Distingue Lovers has also deepened and become burnished with time. Maybe it's that still-arresting word, "distingue"; maybe it's that iconic, tinted image of Lady Day on the cover. But now that legendary LP, with the singer's best studio work of the Fifties, is available at 45 RPM!
Down Beat's West Coast editor John Tynan gave this a four star review, remarking that it is, "...loose, utterly relaxed, a top flight solo work." The great Lady Day is backed by Harry Edison's trumpet, Ben Webster on tenor sax, Jimmy Rowles on piano, Barney Kessel on guitar, Red Mitchell on bass and Alvin Stoller on drums.

"...because Billie is that rare artiste who cannot and will not have anything to do with a song, which story doesn't meet with her understanding and approval; literally, Billie tells her songs rather than sings them as far as the lyrics are concerned, yet, withal, treating the melody as strikingly as any instrumentalist." - Norman Granz
Musicians:

Billie Holiday, vocals
Larry Bunker, drums
Harry "Sweets" Edison, trumpet
Barney Kessel, guitar
Red Mitchell, bass
Joe Mondragon, bass
Jimmy Rowles, piano
Alvin Stoller, drums
Ben Webster, tenor saxophone

Track Listing:

1. Day In Day Out
2. A Foggy Day
3. Stars Fell On Alabama
4. One For My Baby (And One More For The Road)
5. Just One Of Those Things
6. I Didn't Know What Time It Was
Click here to listen to samples on YouTube.com ♫