Kenny Dorham Whistle Stop 2LP 45rpm 180 Gram Vinyl Blue Note Records Analogue Productions RTI USA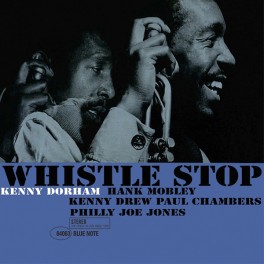 Maximize
Kenny Dorham's death at the age of 48 robbed the world of one of the finest trumpet players and composers jazz has ever seen. This 1961 recording features one of the most perfect ensembles in modern jazz, with Hank Mobley, Kenny Drew, Paul Chambers and 'Philly' Joe Jones. Whistle Stop is one of Dorham's finest dates and features some of his strongest writing.
Limited Edition
Numbered Edition
Mastered from the Original Analog Master Tapes
Cut by Kevin Gray and Steve Hoffman
Mastered at AcousTech
2LP 180 Gram Virgin Vinyl 45rpm
Pressed by RTI USA
"…As much as I'd love to relay all kinds of anecdotes about the challenges Steve Hoffman and Kevin Gray encounter during the mastering sessions, I witness none. These boys know the sound of the facility and the Van Gelder masters like the backs of their hands…Back home a month later, I unpack some test pressings Chad Kassem has sent me…I hear the most realistic-sounding drums ever reproduced by my system. It's as though I'm sitting at the point of creation, experiencing the same high that brought such gifted musicians together as one. Steve Hoffman, Kevin Gray, Chad Kassem, and Don MacInnis have done Rudy Van Gelder and his Blue Note artists proud." – Jason Victor Serinus, Stereophile

"...these first five Acoustic Sounds Blue Note re-issues are pure bop genius...The best news is that Kevin Gray and Steve Hoffman were keen enough to do nothing more than gently clean up the masters, bringing us even closer to the hard bop edge. The 45 rpm pressings that I received were all super quiet with every last drop of resolution from the master tapes. I had almost forgotten just how good Paul Chambers and Phil Joe were together as the backbone of these groups. I've always loved this music but I didn't remember it sounding this good! Hank Mobley offers us some brilliant sax bits on one of Kenny Dorham's finest recordings, Whistle Stop and Dexter Gordon's performance blew me away as well. The biggest surprise were the Lee Morgan records. I suggest turning these up loud, since they possess unlimited energy and some hooks that will knock you out. Amazing! Just a small warning: Once you start playing these Blue Note recordings you will be hooked. The good news is that Acoustic Sounds is working on at least 20 more of these jazz gems. So make sure your turntable has a setting for 45 rpm, clean your stylus occassionally, and get ready to be transported to nirvana." - Dan Babineau, Tone Audio

Rightfully considered one of Kenny Dorham's best, this album features great originals and great trumpet playing. The superb cast consists of Hank Mobley, Kenny Drew, Paul Chambers and Philly Joe Jones. The title tune and "Philly Twist" are often heard, but the entire album represents a great composing achievement for Kenny Dorham.

"Kenny Dorham was always underrated throughout his career, not only as a trumpeter but as a composer. Whistle Stop features seven of his compositions, none of which were picked up later by any of the Young Lions of the '90s despite their high quality and many fresh melodies. Dorham teams up with tenor-saxophonist Hank Mobley (who had recorded with him previously, along with Art Blakey and Max Roach), pianist Kenny Drew, bassist Paul Chambers, and drummer Philly Joe Jones for a set of lively, fresh, and consistently swinging music. This is a generally overlooked near-classic set." - Scott Yanow, All Music
Musicians:

Kenny Dorham, trumpet
Hank Mobley, tenor saxophone
Kenny Drew, piano
Paul Chambers, bass
Philly Joe Jones, drums

Track Listing:

1. Philly Twist
2. Buffalo
3. Sunset
4. Whistle Stop
5. Sunrise in Mexico
6. Windmill
7. Dorham's Epitaph
Click here to listen to samples on YouTube.com ♫