Macy Gray Ruby LP Limited Edition Red Vinyl Artistry Mack Avenue Records 2018 USA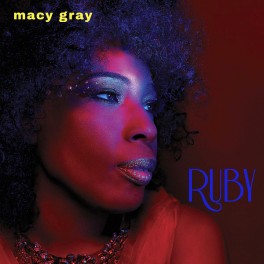 Maximize
Artist:
Macy Gray
Title:
Ruby
Catalog Number:
ART7062LP-R
Label:
Mack Avenue Records
Barcode:
181475706250
Edition:
Colored Vinyl
Original release year:
2018
Number of discs:
1
Revolutions per minute:
33⅓ rpm
Disc size:
12"
Limited Edition:
Yes
Total Item Weight:
268gr
Pressing country:
USA
For Market Release in:
USA
Added to catalog on:
October 15, 2018
Note:
Never eligible for any further discounts
Vinyl Gourmet Club:
No
Macy Gray's raspy voice makes her vocals easily recognizable. She has received five Grammy nominations and is known for her international hit single 'I Try' from her debut album. Her 10th album, Ruby, contains a variety of influences and includes the single 'Sugar Daddy' as well as the song Buddha featuring Gary Clark, Jr.
Limited Edition

Red Vinyl

Includes Download Code
Says Macy: "Sonically, it is beautiful. It has all sorts of [fusions]. There are a lot of live instruments. We mixed it with samples. We had a ball. But, it is very different. At the same time, it is excellent ear candy. It is actually very pop. Still, it is gritty and grimy and dirty. [The record] will be super R&B. You know, with my stuff, there is always a jazz element. That is what I grew up on. I can't wait for everybody to hear it. I love it." - billboard.com

Multi-award-winning, multi-platinum selling singer, songwriter and actress Macy Gray returns with Ruby, her first album since 2016's Stripped jazz covers record for Chesky Records. The lead single "Sugar Daddy" is co-written by Meghan Trainor and comes accompanied by a video, in which Gray plays a troubled, down-on-her-luck lounge singer who turns her luck around and gets everyone dancing in celebration of sugar daddies everywhere!

Rubies hold a special place amongst the world's rarest natural treasures. The most sought-after of the corundum family, the gemstone's crimson hue instantly catches attention – as if extracting passion from the earth itself and crystallizing it in mineral form. Similarly, Macy Gray occupies a rare space in the canon of modern music. That unmistakable rasp, unshakable grasp on soul, and funky spirit ensured her status as a 21st century icon since her arrival with the triple-platinum How Life Is in 1999.

Gray reaffirms and reasserts that signature rarity fans treasure with her tenth full-length album, Ruby. Channeling the spirit of the "grimy" R&B and smoky jazz closest to her heart, Macy made a leap forward by looking back to formative inspirations. However, she updated those elements with enriched, entrancing, and enigmatic soundscapes brought to life by producers Johan Carlsson (Michael Bublé, Maroon 5), Tommy Brown (Jennifer Lopez, Fifth Harmony, Travis Scott), and Tommy Parker Lumpkins (Janet Jackson, Justin Bieber).

Take the first single "Sugar Daddy." Co-written with none other than pop superstar Meghan Trainor, the track swings from jazz-y piano into a cooing verse that's as sweet as it is sassy. Ruby canvases a wide spectrum for the songstress. Raucous horns that feel ripped from a classic seventies flick augment the grit on "Cold World" as "Jealousy" spins a covetous narrative that soars as it seduces. Gary Clark Jr. adds six-string firepower to "Buddha." Everything culminates on the reggae-inspired "Witness," which shuffles between mainland soul and island grooves. In the end, Ruby represents Macy Gray at her most passionate, poetic, and powerful.
Track Listing:

Side A
1. Buddha featuring Gary Clark, Jr.
2. Cold World
3. Over You
4. White Man
5. Tell Me
6. Sugar Daddy

Side B
1. When It Ends
2. Just Like Jenny
3. Jealousy
4. Shenanigans
5. But He Loves Me
6. Witness