Ayako Hosokawa A Whisper of Love LP 180 Gram Vinyl Three Blind Mice Limited Edition Impex Records USA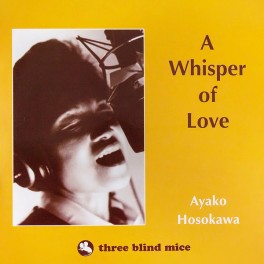 Maximize
Artist:
Ayako Hosokawa
Title:
A Whisper of Love
Catalog Number:
IMP6023
Label:
Three Blind Mice
Reissued by:
Impex Records
Barcode:
798386746023
Original release year:
1993
Reissue year:
2015
Number of discs:
1
Revolutions per minute:
33⅓ rpm
Disc size:
12"
Vinyl Weight Grade:
180gr
Limited Edition:
Yes
Total Item Weight:
368gr
Pressing country:
USA
For Market Release in:
USA
Added to catalog on:
October 14, 2018
Note:
Never eligible for any further discounts
Vinyl Gourmet Club:
No
Returning to her early Three Blind Mice period form, Ayako Hosokawa delivered one of her most popular albums ever in 1993 with A Whisper of Love. Working with a fine ensemble of American jazz players (along with pianist Shota Osabe on two tracks), her delivery had developed a quiet confidence, relaxed and playful. Available for the first time ever on Audiophile Vinyl LP cut bt Kevin Gray.
Limited Edition
Cut by Kevin Gray at Cohearent Audio
180 Gram Vinyl Pressed at RTI, USA
Deluxe Cover inside a resealable plastic sleeve
Includes artists photos from Three Blind Mice Archive
Ayako Hosokawa was the darling of Three Blind Mice Records. Her sweet and charming demeanor was perfectly matched to a honey-dripped alto and playful interpretations. She had two early-career hits for Tee Fujii's label, To Mr. Wonderful and No Tears, both popular releases for the singer.

But there is a special place in many jazz-vocal-lovers' hearts for her 1993 effort A Whisper of Love, a late hit for TBM and an enduring classic in East Asian countries. Working with top-notch American session players (Tee Carson, Jimmie Smith, Ray Loeckle and John Hettel) and recorded in her adopted home of San Francisco, Hosokawa has never been smoother or more comfortable than she is here.

This great set of classic torch songs gives Ms. Hosokawa a matchless showcase for her melodious tone and buttery delivery. Impex Records has tightened up the running order for a more focused listening experience, including all the best tracks from the original album.

Cut by Kevin Gray at Cohearent Audio, you can once again enjoy one of TBM's most popular singers in your listening room with the assurance of quality Impex is heralded for. Quiet surfaces allow the crystal clear tone to shine every time you play the LP, again and again.

A new design has been created for the back of the jacket, including new design elements and photos from the Three Blind Mice archive. The iconic front cover was left intact. Come experience anew this great TBM classic in its vital new form!
Musicians:

Ayako Hosokawa, vocals
Tee Carson, piano
John Hettel, bass
Jimmie Smith, drums
Ray Loeckle, reeds
Shota Osabe, piano

Track Listing:

01. Dream a Little Dream of Me
02. Too Young
03. Sea of Love
04. That's All
05. Tea For Two
06. These Foolish Things
07. I Wish You Love
08. It's All in the Game