Grant Green Idle Moments Music Matters 180g Vinyl LP 33rpm Limited Edition Kevin Gray Blue Note USA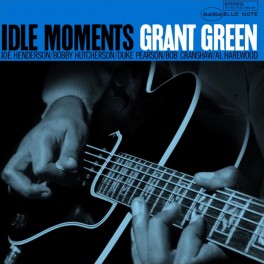 Maximize

Display all pictures
From Music Matters impressive 33rpm Reissue Series, one of the best Blue Note titles and memorable Grant Green session recorded by Rudy Van Gelder. Audiophile mastering from Original Analog Master Tapes by Kevin Gray at Cohearent Audio on 33rpm 180 grams virgin vinyl pressed at RTI and presented in a luxurious gatefold cover with stunning high resolution session photos.

Limited Edition of Only 3500 Copies
Cut from the Original Rudy Van Gelder Blue Note Stereo Master Tapes
Remastered by Kevin Gray at Cohearent Audio
100% Analog Mastering and Cutting
Pressed on 180gr Virgin vinyl by RTI
Deluxe gatefold cover with high resolution session photos
"Grant Green was, along with Wes Montgomery, the top new jazz guitarist to become prominent in the early 1960s. Due to his single-note style (Green rarely ever played a chord) and his ability to create fast lines on the spot, Green was in some ways the Charlie Parker of the guitar. He gained experience playing in St. Louis in the 1950s including with Jimmy Forrest, Harry "Sweets" Edison and Lou Donaldson, moved to New York, and immediately became Blue Note's house guitarist.
When it came to playing soul jazz with organ combos, jamming bebop with a quartet, caressing ballads or coming up with fresh approaches to Latin jazz and spirituals, the versatile Green was at the top of his field. But among his many recordings, Grant Green's most vital and adventurous was Idle Moments. With such inspiring sidemen as Joe Henderson, Bobby Hutcherson and Duke Pearson, Green is heard at the absolute apex of his creativity throughout this stunning set.
He builds up statements like a masterful speaker, sounds both passionate and thoughtful at every tempo, and never runs out of brilliant and personal ideas to express. Every phrase leads to the next one yet all of his solos are spontaneous. While the other musicians are inspired and in top form, Idle Moments is particularly notable as the height of Grant Green's musical genius."

Track Listing:

1. Idle Moments
2. Jean De Fleur
3. Django
4. Nomad
Musicians:

Joe Henderson, tenor sax
Bobby Hutcherson, vibes
Grant Green, guitar
Duke Pearson, piano
Bob Cranshaw, bass
Al Harewood, drums

Click here to listen to samples on AllMusic.com ♫