Neil Young This Note's For You LP Vinyl Bernie Grundman Mastering Reprise Records 2018 USA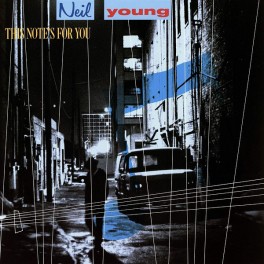 Maximize
Neil Young's 17th LP took a stab at rhythm and blues, employing a horn section that sounds like a scrappy bar band, and a casual authenticity that occasionallyl doubles back for a wink or two. In songs such as 'Ten Men Workin' and the title track, which spawned a hit video that won an MTV Video Music Award for Best Video of the Year, Young and his group roll blithely through the music.
All Analog Mastering
Cut by Chris Bellman at Bernie Grundman Mastering
1988's This Note's For You found Neil Young raging against commercialism while being backed by a horn-laden new band called The Bluenotes. Recorded at Studio Instrument Rentals in Hollywood, CA and co-produced by Young and Niko Bolas, it was his first album to appear on the recently re-activated Reprise Records since 1981's Re-ac-tor. The album is famous for its classic title track video which delivers a spot-on parody of rock star beer and soda commercials of the '80s. Grammy nominated, it was instantly banned by MTV when Michael Jackson's attorneys threatened legal action because of the lookalike whose hair catches fire, but the network eventually reconsidered, and it ended up winning Video of the Year in 1989. While the title cut certainly steals the show here opener "Ten Men Workin'" and "Life in the City" are both solid numbers in their own right.
Track Listing:

Side A
1. Ten Men Workin'
2. This Note's For You
3. Coupe De Ville
4. Life In The City
5. Twilight

Side B
1. Married Man
2. Sunny Inside
3. Can't Believe Your Lyin'
4. Hey Hey
5. One Thing
Click here to listen to samples on AllMusic.com ♫