Neil Young ‎Hawks & Doves LP Vinyl Bernie Grundman Mastering Reprise Records 2018 USA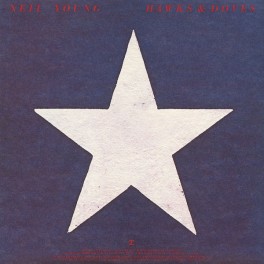 Maximize
The 10th studio album from Neil Young, Hawks & Doves was released in 1980. The first side, considered the 'doves' side, contains songs culled from session dates between 1974 and 1977. Side two, the 'hawks' side, features songs recorded specifically for the album in early 1980. Cut from Original Analog Master Tapes by Chris Bellman at Bernie Grundman Mastering.
All Analog Mastering
Cut by Chris Bellman at Bernie Grundman Mastering
After closing out the '70s on an all-time high with the double shot of 1979's Rust Never Sleeps and Live Rust, Neil Young switched creative gears yet again and ushered in the '80s with the low-key, dual sided acoustic album, Hawks & Doves. The spare and eerie sounding side one ("Doves") salvaged tracks like "Little Wing" and "The Old Homestead" feat. Levon Helm from his aborted 1975 Homegrown LP while the more vibrant second side ("Hawks") featured recently conceived country-based material. Being that Young would experiment with new wave and electronica on subsequent releases the underrated Hawks & Doves serves as one of his more accessible albums of the decade.
Track Listing:

Side A
1. Little Wing
2. The Old Homestead
3. Lost In Space
4. Captain Kennedy

Side B
1. Stayin' Power
2. Coastline
3. Union Man
4. Comin' Apart At Every Nail
5. Hawks & Doves
Click here to listen to samples on YouTube.com ♫