Winyl Stylus Duo Clean Lab-21 Formula Special Set Stylus Tip Brush Cleaner And Rinse Fluids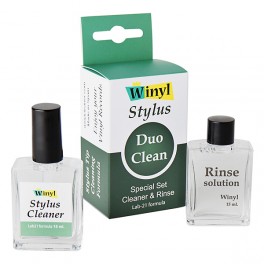 Maximize
Artist:
Winyl Record Cleaner
Title:
Stylus Duo Clean
Catalog Number:
WSCD-30
Barcode:
0763846976372
Capacity:
2x 15ml Cleaner And Rinser
Total Item Weight:
135gr
Pressing country:
EU
For Market Release in:
EU
Added to catalog on:
August 19, 2018
Collection:
Vinyl Gourmet Accessories
Note:
Never eligible for any further discounts
Vinyl Gourmet Club:
No
SPECIAL ORDER: Not available to order online, please contact us for more information about available payment options and shiping cost.

Winyl Stylus Duo Clean - Stylus Tip Cleaner

Stylus Duo Clean Lab-21 formula is a complete and effective cleaning solution for the delicate stylus tip of your cartridge. Its non-abrasive cleaning fluid improves tonal accuracy and High Fidelity performance, preserving the life of the stylus and record.

This is a special Double Set to preserve the purity of the Cleaner. Bottle 1 contains the stylus cleaning solution and brush. Bottle 2 contains the rinse solution for the brush, to be used after cleaning the stylus, keeping the brush and cleaning liquid free from debris and contaminants to preserve the contents of Bottle 1 clean and ready to use.
Removes dust and dirt particles
Extends both stylus and record life
Reduces noise and distortion
Improves tracking ability
Completely safe for all stylus and cartridge assemblies
Content of the box:
Cleaner. 15 ml. glass bottle built-in soft brush in cap
Rinse Solution. 15 ml. glass bottle
Instructions (English, German, French and Spanish)