Art Blakey And The Jazz Messengers Moanin' Music Matters 180g Vinyl LP 33rpm Limited Edition Blue Note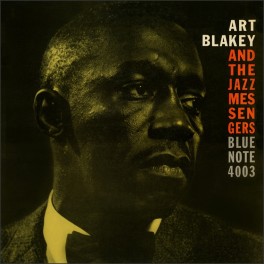 Maximize

Display all pictures
From Music Matters impressive 33rpm Reissue Series, one of the best Blue Note titles and memorable Art Blakey session recorded by Rudy Van Gelder. Audiophile mastering from Original Analog Master Tapes by Kevin Gray at Cohearent Audio on 33rpm 180 grams virgin vinyl pressed at RTI and presented in a luxurious gatefold cover with stunning high resolution session photos.

Limited Edition of Only 3500 Copies
Cut from the Original Rudy Van Gelder Blue Note Stereo Master Tapes
Remastered by Kevin Gray at Cohearent Audio
100% Analog Mastering and Cutting
Pressed on 180gr Virgin vinyl by RTI
Deluxe gatefold cover with high resolution session photos
"One of the most beloved recordings of all time, Moanin' is one of the few albums where listeners actually remember where they were the first time they heard it. Art Blakey's Jazz Messengers had been formed in 1955 when Blakey joined forces with Horace Silver. After Silver left to form his own successful quintet, Blakey's band struggled a bit. However this is the version of the group that made the Jazz Messengers immortal. In fact, the release of 1958's Moanin' is when the Jazz Messengers became a permanent jazz institution, a laboratory in swinging jazz. Shortly before this recording was made, tenor- saxophonist Benny Golson persuaded Blakey to hire three brilliant young Philadelphians (Lee Morgan, Bobby Timmons and bassist Jymie Merritt) for the band. With Golson, Timmons and Morgan contributing new songs, the Jazz Messengers quickly had a fresh repertoire, their own sound, and an infectious enthusiasm that can still be felt today.
These musicians knew that they were creating some of the world's greatest music. Moanin' finds the band combining youthful soul with hard-swinging solos. The Jazz Messengers are simply thrilling throughout this album. They introduce the definitive gospel-drenched soul jazz tune "Moanin'," (the solos of Morgan, Golson and Timmons would be quoted by other musicians for decades), "Along Came Betty" and "Blues March" on this remarkable album. Blakey's drumming is explosive in the extreme, inspiring the musicians to play as if every chorus might be their last. The passion and intensity heard throughout Moanin' makes this an all-time classic."



Musicians:

Lee Morgan, trumpet
Benny Golson, tenor sax
Bobby Timmons, piano
Jymie Merritt, bass
Art Blakey, drums

Track Listing:

1. Moanin'
2. Are You Real
3. Along Came Betty
4. The Drum Thunder (Miniature) Suite
First Theme: Drum Thunder
Second Theme: Cry A Blue Tear
Third Theme: Harlem's Disciples
5. Blues March
6. Come Rain Or Come Shine

Click here to listen to samples on AllMusic.com ♫