John Coltrane Coltrane Jazz 2LP 45rpm 180 Gram Vinyl Atlantic Bernie Grundman ORG Music Pallas USA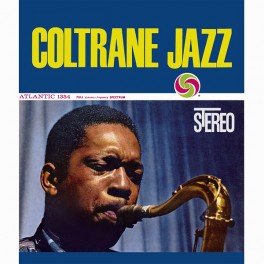 Maximize
Artist:
John Coltrane
Title:
Coltrane Jazz
Catalog Number:
ORGM-1090
Label:
Atlantic
Reissued by:
ORG Music
Barcode:
711574708314
Original release year:
1961
Reissue year:
2014
Number of discs:
2
Revolutions per minute:
45 rpm
Disc size:
12"
Vinyl Weight Grade:
180gr
Limited Edition:
Yes
Total Item Weight:
701gr
Pressing country:
Germany
For Market Release in:
USA
Note:
Never eligible for any further discounts
Vinyl Gourmet Club:
Yes
Recorded with Miles Davis' legendary rhythm section and originally released in 1960 immediately after Giant Steps, Coltrane Jazz came in the midst of the saxophonist's peak Atlantic period which ultimately changed the face of music forever. Backed by Wynton Kelly, McCoy Tyner, Paul Chamber, Steve Davis, Jimmy Cobb and Elvin Jones, Coltrane Jazz sounds amazing on this Bernie Grundman cut.
Limited Edition
Audiophile Double LP 45rpm
Mastered from Original Analog Master Tapes
Mastered by Bernie Grundman
180 Gram Vinyl Pressed at Pallas Germany
Gatefold Cover
Originally released in 1960, and on the heels of Giant Steps, Coltrane Jazz came in the midst of the saxophonist's peak Atlantic period. The album is among several recordings that Coltrane issued from 1959-1961, and which, ultimately, forever changed the face of music.
Featuring pianists Wynton Kelly and McCoy Tyner, bassists Paul Chambers and Steve Davis, and drummers Elvin Jones and Jimmy Cobb, the set was recorded at three separate sessions. The expert personnel are a harbinger of the great quartet Coltrane soon would assemble for 1960's My Favorite Things. And while not as famous as that iconic title, Coltrane Jazz belongs in the pantheon of phenomenal jazz albums and is an absolute must for any music fan.
In addition to boasting superior performances and playing, the set marks Trane's first use of multiphonics, the practice of extracting more than one tone at a time from the horn, which here, and unlike on any other Coltrane record, is querulously pitched, allowing him to explore new tonalities on tracks such as "Harmonique." Innovations abound. Every cut is an original composition save for Johnny Mercer's "My Shining Hour." Not surprisingly, Miles Davis' influence is felt throughout; his rhythm section is used on all but one selection.
Musicians:

John Coltrane, tenor sax
McCoy Tyner, piano (on "Village Blues")
Steve Davis, bass (on "Village Blues")
Elvin Jones, drums (on "Village Blues")
Wynton Kelly, piano
Paul Chambers, bass
Jimmy Cobb, drums
Track Listing:


1. Little Old Lady
2. Village Blues
3. My Shining Hour
4. Fifth House
5. Harmonique
6. Like Sonny
7. I'll Wait and Pray
8. Some Other Blues
Click here to listen to samples on AllMusic.com ♫