The Lord Of The Rings The Fellowship Of The Ring Complete Recordings 5LP 180g Red Vinyl Box Set 2018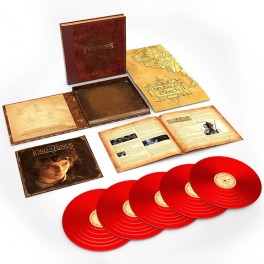 Maximize

Display all pictures
Return to Middle-earth with the first soundtrack from the Lord Of The Rings trilogy, The Fellowship Of The Ring: The Complete Recordings, available now on vinyl for the first time! Housed in a collector's box with red leather style spine, the collection is limited to 5,000 individually numbered copies on 180-gram red vinyl.
Limited Edition
Numbered Edition (5000 units)
5LP Deluxe Collector's Box
Deluxe Booklet + Middle Earth Map Part I
Audiophile 180 Gram Red Vinyl
Pressed at Optimal Media in Germany
Direct Metal Mastering by Alex Wharton
Cut at Abbey Road Studios
Composer Howard Shore's Oscar-winning score for the film! Deluxe 180-gram 5LP red vinyl box set housed in a red leather-style spine box. Also features a map of Middle Earth and booklet with liner notes from author Doug Adams. The most comprehensive collection of music for "The Fellowship of the Ring" released on LP!

Appropriately enough for the film adaptation of one fantasy literature's most enduring favorites, Howard Shore's score for Peter Jackson's "Lord of the Rings" is traditional and majestic, using sweeping strings, brass, and choral sections to create moments of fire-and-brimstone menace as well heroic triumph.
An ominous, bombastic feel runs through much of the score, particularly on pieces like "A Journey in the Dark," "Flight to the Ford," and "A Knife in the Dark," but Shore also includes respites such as the sweetly elfin, Celtic-tinged "Concerning Hobbits" and the stately "Many Meetings." The vibrant "Bridge of Khazad Dum" and "Amon Hen" combine the score's major themes into dazzling climaxes, while Enya's contributions, "Council of Elrond" and "May It Be," add a subtle serenity that gives the score balance. While it's not a particularly melodic score, Lord of the Rings nevertheless does an excellent job of conveying the film's moods through music and has more than enough presence to be appreciated outside of the film's context.

Fashioned in the style of the faux-leather-bound books that housed the lauded trilogy's "Special Edition" DVD releases, Lord of the Rings: Fellowship of the Ring — The Complete Recordings gathers every bit of composer Howard Shore's Oscar-winning score for the first film and spreads it over five 180-gram LPs! Also included is a map of Middle Earth and a booklet featuring new linear notes from author Doug Adams. Limited to just 5,000 copies.

This box set features the music from acclaimed composer, Howard Shore, and also includes two original songs written and performed by Enya.
Track Listing:
LP 1
Prologue: One Ring To Rule Them All
The Shire - By Lord Of The Rings Soundtracks
Bag End - By Lord Of The Rings Soundtracks
Very Old Friends - By Lord Of The Rings Soundtracks
Flaming Red Hair - By Lord Of The Rings Soundtracks
Farewell Dear Bilbo - By Lord Of The Rings Soundtracks
Keep It Secret, Keep It Safe - By Lord Of The Rings Soundtracks
A Conspiracy Unmasked - By Lord Of The Rings Soundtracks
Three Is Company - By Lord Of The Rings Soundtracks
LP 2
The Passing Of The Elves - By Lord Of The Rings Soundtracks
Saruman The White - By Lord Of The Rings Soundtracks
A Shortcut To Mushrooms - By Lord Of The Rings Soundtracks
Strider - By Lord Of The Rings Soundtracks
The Nazgûl - By Lord Of The Rings Soundtracks
Weathertop - By Lord Of The Rings Soundtracks
The Caverns Of Isengard - By Lord Of The Rings Soundtracks
Give Up The Halfling - By Lord Of The Rings Soundtracks
Orthanc - By Lord Of The Rings Soundtracks
Rivendell - By Lord Of The Rings Soundtracks
The Sword That Was Broken - By Lord Of The Rings Soundtracks
LP 3
The Council Of Elrond Assembles - By Lord Of The Rings Soundtracks
The Great Eye - By Lord Of The Rings Soundtracks
Gilraen's Memorial - By Lord Of The Rings Soundtracks
The Pass Of Caradhras - By Lord Of The Rings Soundtracks
The Doors Of Durin - By Lord Of The Rings Soundtracks
Moria - By Lord Of The Rings Soundtracks
Gollum - By Lord Of The Rings Soundtracks
Balin's Tomb - By Lord Of The Rings Soundtracks
LP 4
Khazad-dûm - By Lord Of The Rings Soundtracks
Caras Galadhon - By Lord Of The Rings Soundtracks
The Mirror Of Galadriel - By Lord Of The Rings Soundtracks
The Fighting Uruk-hai - By Lord Of The Rings Soundtracks
LP 5
Parth Galen - By Lord Of The Rings Soundtracks
The Departure Of Boromir - By Lord Of The Rings Soundtracks
The Road Goes Ever On...Pt. 1 - By Lord Of The Rings Soundtracks
May It Be - By Enya
The Road Goes Ever On...Pt. 2 - By Lord Of The Rings Soundtracks
Click here to listen to samples on YouTube.com ♫