Otto Klemperer Beethoven Symphony No.7 LP 180 Gram Vinyl Philharmonia EMI Hi-Q Records Supercuts EU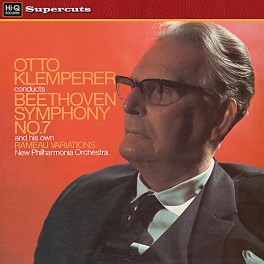 Maximize
Artist:
Otto Klemperer
Title:
Beethoven Symphony No.7
Catalog Number:
HIQLP021
Label:
EMI
Reissued by:
Hi-Q Records
Barcode:
5060218890218
Original release year:
1970
Reissue year:
2012
Number of discs:
1
Revolutions per minute:
33⅓ rpm
Disc size:
12"
Vinyl Weight Grade:
180gr
Total Item Weight:
280gr
Pressing country:
EU
For Market Release in:
EU
Added to catalog on:
April 26, 2018
Note:
Limited Eligibility for Discounts
Vinyl Gourmet Club:
Yes
Otto Klemperer built his reputation recording for EMI during the last 20 years of his life, but he was at the vanguard of much of the new music of the 20th century. The Viennese tradition of Beethoven and Brahms was something in which Klemperer was, of course, immersed. Here Klemperer conducts the New Philharmonia Orchestra for this brilliant interpretation of Beethoven's Symphony No.7
Hi-Q Records Supercuts
180 Gram Audiophile Vinyl
Cut from the Original EMI Analog Master Tapes
Mastered at Abbey Road Studios
Features Original Album Artwork
"Cut at Abbey Road Studios from the original stereo analogue master tapes with the Neumann VMS82 lathe fed an analogue pre-cut signal from a specially adapted Studer A80 tape deck with additional 'advance' playback head, making the cut a totally analogue process. Pressed using the original EMI presses at The Vinyl Factory in Hayes, England"
Otto Klemperer (1885-1973) is remembered more as an old man whose last years embraced the refinement of analogue stereo recording and the burgeoning of colour television (his performances of Beethoven Symphonies at the Royal Festival Hall were captured by the BBC). As a young man though, he was at the vanguard of much of the new music of the 20th century, and was friends with Mahler (assisting at the premiere of Mahler's 8th Symphony) and championed works by Janáček, Schoenberg, Stravinsky and Hindemith, as well as being a composer himself. Arguably his greatest legacy is the raft of superb recordings he made for EMI from 1954 until 1971, with his interpretations of Beethoven and Brahms symphonies particularly celebrated.

In the original 1972 review in the GRAMOPHONE, TH wrote: "The main object of this new recording, I imagine, is to give us [Klemperer's] commanding version of this symphony in a really up to date recording and in this HMV's engineers have been highly successful. The remastered version of his older recording still sounds very well but one has only to compare a few bars to be convinced of the greater superiority of this new edition. It has a more immediate presence which increases the impact of this magisterial reading of the score, while the extremely well defined string bass draws attention to important points one might otherwise overlook; as for example, the place in the slow movement where the accompaniment to the main tune changes from quavers into triplets... As most readers will know by now, you must take Klemperer's Beethoven on his own terms: and his own terms are both impressive, and what is more important, often extraordinarily revealing."
Track Listing:
Side A
Beethoven: Symphony No.7 in A Op.92
I. Poco sostenuto - Vivace
II. Allegretto

Side B
Beethoven: Symphony No.7 in A Op.92 (cont.)
III. Presto - Assai meno presto
IV. Allegro con brio
Rameau (arr. Klemperer)
Gavotte with Six Variations

New Philharmonia Orchestra
Otto Klemperer

Recorded on 12-13 October 1968 at Number 1 Studio, Abbey Road, London. Produced by the legendary Suvi Raj Grub and engineered by Martin Benge