Gabor Szabo ‎Dreams LP 180 Gram Vinyl Gatefold Skye Fresh Sounds Records MPO 2018 EU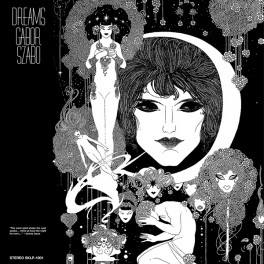 Maximize
Artist:
Gabor Szabo
Title:
Dreams
Catalog Number:
SKLP-1001
Label:
Skye Records
Reissued by:
Fresh Sound Records
Barcode:
8427328447515
Original release year:
1968
Reissue year:
2018
Number of discs:
1
Revolutions per minute:
33⅓ rpm
Disc size:
12"
Vinyl Weight Grade:
180gr
Total Item Weight:
352gr
Pressing country:
France
For Market Release in:
EU
Added to catalog on:
April 22, 2018
Note:
Never eligible for any further discounts
Vinyl Gourmet Club:
No
Here, Gabor Szabo ambitiously pairs his outstanding quintet (featuring Jimmy Stewart) with Gary McFarland's subtle string and horn arrangements in a collection of originals, pop covers, and classical reinterpretations. The result is a sort of accessible third-stream music. Szabo has many fine moments, and provides nice spaces for the beautiful guitar solos of Jimmy Stewart.
180 Gram Vinyl Gatefold Cover
Cut by Lex van Coeverden at Vinyl Room studios
Pressed at MPO, France
"Gabor Szabo may not have been as much of a household name as his jazz guitar counterparts (Grant Green & Wes Montgomery), but the Hungarian guitarist was a incredibly skilled player that posessed unmatched versatility. After starting his career as a member of the ever evolving Chico Hamilton Quintet in the early 60s, Szabo turned to Indian, Latin and psychedelic rock fusion to craft his jazz recordings as band leader on the adventurous Impulse label.

However, Szabo craved more artistic freedom and along with latin vibraphonist Cal Tjader and labelmate Gary MacFarland, he co-founded Skye Records in 1969. Propelled by MacFarland's vibrant arrangements, Gabor was able to release the album he always envisionned the aptly titled Dreams." - Music Is My Sanctuary
"In 1966, he quit a prestigious gig at Impulse to set about forming Skye Records with Cal Tjader and Gary McFarland. It still took another three years before work began on his masterpiece in 1966.

It was wildly ambitious in scope. A hint to the inspiration for the material is the title Dreams. There's a delightful hush to the whole thing even though the compositions stray far and wide from the peace at its mellow core. Szabo lets his incredible band express themselves individually and only occasionally weighs in with his distinctive solos.

Although there are many disparate elements, the album was conceived as a whole and it begs repeat listening, so addictive are its charms. There's an ethereal atmosphere to most of it as if Szabo was tapping into the pre-cognitive feeling for music that can blossom into such magical thinking later on.

It rises and falls like the wind in an expertly measured elemental fashion. The transcendent moments are divine but it does not lack for power or groove either. With its equally beguiling cover it's a mystery this record disappeared.

Tragically, it mirrors Szabo's sad demise who died aged 46 after a long battle with drug addiction. Luckily for us, he captured his reveries in time and bequeathed us an everlasting gift of true grace and beauty." - Donal Dineen, Irish Times
Track Listing:

Side A
1. Galatea's Guitar (Szabo) 5:33
2. Half the Day is the Night (McFarland) 4:23
3. Song of Injured Love (DeFalla) 4:05
4. The Fortune Teller (Szabo-Kabok) 4:28

Side B
1. Fire Dance (DeFalla) 5:39
2. The Lady in the Moon (Szabo) 5:13
3. Ferris Wheel (Donovan) 5:27
Click here to listen to samples on YouTube.com ♫