Seiichi Nakamura Quintet +2 The Boss LP 180g Vinyl Tohru Kotetsu JVC Harmonix Master Sound Japan 2017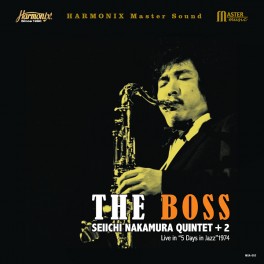 Maximize

Display all pictures
Beginning March 22, 1974, Three Blind Mice hosted a special event '5 Days In Jazz' at Nihon Toshi Center Hall. The live jazz performances were spread across five days and all of them were recorded. The performance for 'The Boss' by Seichi Nakamura Quintet +2 was recorded in March 23, 1974, and this first time release on vinyl was cut by Tohru Kotetsu at JVC Japan.
Harmonix Master Sound Japan
Premium Edition High Quality 180 Gram Vinyl
Produced by Takeshi "Tee" Fujii and recorded by Yoshihiko Kannari
For Three Blind Mice Records Japan
Mastered by Tohru Kotetsu at JVC Mastering Japan
Gatefold Cover with OBI Strip
During the New Year 2014 holiday, when Tee Fujii producer of TBM Records was tidying up the stock room, he found three analog tapes in a sealed box on the shelf. When he opened the box, he found the master tapes inside - 2-track 15"/sec original tapes for "The Boss" performance. The 1974 live performance had never been released. As you listen, the quality of their performance is extraordinary and unique.
'The Boss' by Seiichi Nakamura, is a live recording made by TBM Records as part of a special project '5 days in Jazz' recorded in March 23, 1974. Of the 5 Live Albums recorded during this special event 'The Boss' was the only one never released due to an oversight by the Producer Takeshi 'Tee' Fujii. As you listen, the quality and performance of the music they play is just extraordinary and unique. The playing technique on 'The Boss' contains a rich sense of elegance and Japanese tradition that touches the spirit.
Musicians:

Seiichi Nakamura, tenor saxophone
Shigeharu Mukai, trombone
Hiroshi Tamura, piano
Isoo Fukui, bass
Shinji Mori, drums
Guest Artists (B-1 Only):
Yoshio Ohtomo, alto saxophone
Kazumi Watanabe, guitar
Track Listing:

Side A
1. Old Folks (Willard Robinson - David L. Hill - 11:43)
2. Toppu~: A Gust (Shigeharu Mukai - 13:42)

Side B
1. The Boss (Jimmy Smith - 20:47)