Diana Krall All For You A Dedication To The Nat King Cole Trio 2LP 45rpm 180g Vinyl Limited Edition ORG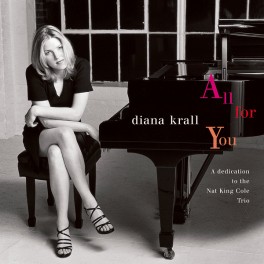 Maximize

Display all pictures
Artist:
Diana Krall
Title:
All For You
Catalog Number:
ORG 006-45
Label:
Impulse!
Reissued by:
ORG Original Recordings Group
Barcode:
864993000030
Original release year:
1996
Reissue year:
2009
Number of discs:
2
Revolutions per minute:
45 rpm
Disc size:
12"
Vinyl Weight Grade:
180gr
Limited Edition:
Yes
Numbered Edition:
Yes
Total Item Weight:
691gr
Pressing country:
USA
For Market Release in:
USA
Added to catalog on:
March 22, 2018
Note:
Never eligible for any further discounts
Vinyl Gourmet Club:
Yes
All For You is a tribute to the Nat King Cole Trio by a woman who is better equipped than any other jazz musician of her generation to evoke the spirit of Nat Cole. Diana Krall, who listened eagerly to Cole's records as a child, grew up to be that rarest of birds: a singer-pianist as comfortable and distinctive in one role as the other.
Limited Edition
Numbered Edition
2LP 180 Gram 45rpm Vinyl
Audiophile Pressing at RTI USA
Mastered by Bernie Grundman
Cut from the Original Analog Master Tapes
Deluxe Laminated Gatefold Cover
On this salute to pianist/vocalist extraordinaire Nat King Cole, Diana Krall has a lot to live up to, presenting a group of compositions that are ingrained in the public's memory as part of a lasting legacy of both jazz and pop music. It's to her credit that she went about this intimidating task with a resourcefulness and quiet grace that makes All For You an exceptional tribute.

A majority of All For You features Krall in an appropriately unadorned trio setting wonderfully capturing the essence of the Cole trio's arrangements. Krall swings hard with guitarist Russell Malone and bassist Paul Keller on "I'm An Errand Girl For Rhythm" and "Hit That Jive Jack," often employing Cole trio devices such as repeated unison figures and on-top-of-the-beat eighth notes on bass.

Diana Krall's own sultry, understated singing and crisp, straightforward piano is distinctive enough to cast a fine new light on these classic songs while still paying her deepest respects to the iconic Nat King Cole Trio.

"...if you're going to own but one Krall album, this is the one to own!" - Michael Fremer, Analog Planet
Recorded October 1995 in New York City.

Musicians:

Diana Krall (lead vocal, piano)
Russell Malone (guitar)
Paul Keller (bass)
Benny Green (piano)
Steve Kroon (percussion)
Track Listing:
Side A
1. I'm An Errand Girl for Rhythm
2. Gee Baby, Ain't I Good To You
3. You Call It Madness

Side B
4. Frim Fram Sauce
5. Boulevard of Broken Dreams
6. Baby Baby All the Time

Side C
7. Hit That Jive Jack
8. You're Looking At Me
9. I'm Thru With Love

Side D
10. Deed I Do
11. A Blossom Fell
12. If I Had You
13. When I Grow Too Old To Dream
Click here to listen to samples on YouTube.com ♫