Azar Lawrence ‎Bridge Into The New Age ‎LP 180 Gram Vinyl Kevin Gray Jazz Dispensary QRP 2017 USA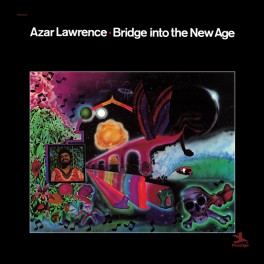 Maximize

Display all pictures
The Jazz Dispensary Top Shelf Series is a reissue program focused on delivering quality music with the best possible listening experience. Highlighting complete original albums from the Jazz Dispensary vaults with a focus on rare or previously unavailable titles, each album is expertly mastered and pressed on 180 Gram audiophile vinyl and housed in a faithfully reproduced old-school tip-on cover.
180 Gram Vinyl pressed at QRP, USA
First time on 180 Gram Audiophile Vinyl
Lacquers cut by Kevin Gray at Cohearent Audio
Old-school style tip-on Gatefold cover
Jazz Dispensary Top Shelf Series Astral Travelin'
Jazz Dispensary "Authorized Dealer" window cling
Azar Lawrence is an American jazz saxophonist, known for his contributions as sideman to McCoy Tyner, Miles Davis, Freddie Hubbard, Elvin Jones and Woody Shaw. Lawrence was the tenor saxophonist Tyner used following John Coltrane's death. His first solo album, Bridge into the New Age, was recorded in 1974 and released on the Prestige label.

"What do Miles Davis, McCoy Tyner, Elvin Jones, Horace Tapscott, Earth, Wind & Fire, Frank Zappa, Busta Rhymes, Billy Higgins, Chuck Jackson and the lost funk group Chameleon all have in common? Los Angeles saxophonist Azar Lawrence, that's what.

"Released in 1974 on Prestige, Bridge Into The New Age was the first of three albums Lawrence recorded as a leader for Prestige — all before he was 25 (this one when he was a pup of 21). But Lawrence had logged some serious time with Tyner (getting the first notices for his work on the pianist's classic Enlightenment set from 1973). He had also played on Davis's freaky live funk date at Carnegie Hall, released in 1974 as Dark Magus. Beatheads and crate-diggers, the true cultural archeologists of our age, God bless them, have been onto this maddeningly out-of-print licorice pizza for years.

"Hardcore jazz fans were hip to Lawrence and excited about him as a leader. The lineup here is enough to make your mouth drop open in an extended 'Whooooooaaaaaaa': besides the leader playing soprano and tenor saxophones, this date hosts Julian Priester (trombone), Woody Shaw (trumpet), Hadley Caliman (flute), Arthur Blythe (alto saxophone), Joe Bonner (piano), John Heard, Woody Murray, and Clint Houston (variously on bass), Billy Hart (drums), Leon Chancler, Mtume or Kenneth Nash (percussion), and on two tracks, the title and "The Beautiful And Omnipresent Love," the beguiling Jean Carn appears to grace them with her gloriously soulful vocals." — AllMusic

Long out of print, this is an absolute masterwork from Azar Lawrence (ts). Expansive, forward-leaning, richly textured, and powerfully knotty, this spiritual-tinged outing features heavyweights Julian Priester (tb), Woody Shaw (t), Ray Straughter and Hadley Caliman (f), Arthur Blythe (as), Joe Bonner (p), Clint Houston and John Heard (b), Billy Hart (d), Leon "Ndugu" Chancler, Mtume, Guillerme Franco, and Kenneth Nash (perc), Woody Murray (v), and the inimitable Jean Carn (voc). Essential.
Musicians:

Azar Lawrence, soprano and tenor saxes
Jean Carn, voice
Woody Shaw, trumpet
Ray Straughter, wood flute
Woody Murray, vibes
Clint Houston, bass
Billy Hart, drums
Guillerme Franco, percussion
Kenneth Nash, percussion
Julian Priester, trombone
Hadley Caliman, flute
Black Arthur, alto sax
Joe Bonner, piano
John Heard, bass
Ndugu, drums
Mtume, conga drums, percussion

Track Listing:

Side A
1. Bridge Into The New Age
2. Fatisha
3. Warriors Of Peace

Side B
1. Forces Of Nature
2. The Beautiful And Omnipresent Love
Click here to listen to samples on YouTube.com ♫