Miles Davis Bitches Brew 2LP 180 Gram Vinyl Mobile Fidelity Numbered Limited Edition MFSL MoFi USA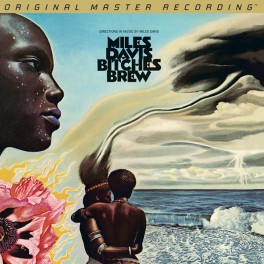 Maximize
The definitive reissue we all waited for of this monumental 1970 Jazz Fusion album, transferred from the Original Mix Master Tapes, this is the ultimate collectible audiophile version of Bitches Brew given supreme sonic and packaging treatment by MFSL. Having established new possibilities for studio recording techniques, this MoFi edition let's you experience it perfectly!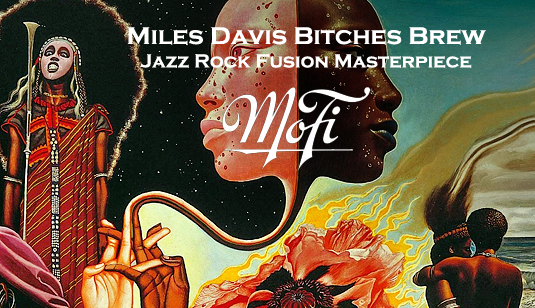 Rolling Stone 500 Greatest Albums of All Time Rated 95/500
Featured in Vinyl Gourmet Audiophile TOP 100
Numbered Limited Edition
180 grams High Definition Vinyl pressed at RTI
Mastering on MFSL Gain 2 Ultra Analog System
Mastered by Mobile Fidelity Sound Lab
Mastered from the Original Analog Master Tapes
Audiophile Reissue using the Original Mix
Cut by Krieg Wunderlich and Shawn Britton
Special Static Free & Dust Free Inner Sleeves
Deluxe Gatefold Cover
1/4" / 15 IPS analog master to DSD 64 to analog console to lathe
"Listen to This. As the original working title for Bitches Brew, the instruction and invitation resonates to this day as the best way to approach a record that shattered conventions, altered music history, and, more than 40 years later, still sounds far ahead of its time. The aural Mount Rushmore of jazz fusion, Bitches Brew is rightly ranked by virtually every significant press outlet among the 100 greatest albums ever made in any genre. Sewn together with vibrant colors, voodoo textures, and ethereal moods, the 1970 landmark emerges with supreme detail and nonpareil feeling.
Davis conceived Bitches Brew by having the musicians stand in a semi-circle, where he pointed at them with vague directions for tempo, solos, and cues. The collective improvisation and interplay spawned a galaxy of melodies and grooves that were later spliced together by producer Ted Macero. Here, these distinct creations take shape with utmost realism. Compositions stretch across jet-black backgrounds and paint abstract canvasses on par with those of Axis: Bold As Love and Abraxas. Juxtaposed percussion, loose jams, and melodic segues explode with impressionistic verve.
Gathering a Hall of Fame-worthy lineup of musicians and tweaking it according to his desires, Davis follows through on his idea to "put together the greatest rock and roll band you ever heard" on Bitches Brew. Central to his proposition is the presence of two (and sometimes three) drummers and two bassists, a tactical move that thrusts rhythms into a central focus. Akin to the futuristic album cover art, the drum-driven suites head toward distant universes and uncharted territories-at once hypnotizing and grooving, charting maverick adventures with quixotic rock, funk, and R&B elements.
Conceptually, Davis described Bitches Brew as "a novel without words" and "an incredible journey of pain, joy, sorrow, hate, passion, and love." The vast psychedelic expanses of warped echoes, liquid reverb, and tape loops confirm such ambitious contrasts of light and dark, fear and hope. Yet the most absolute characteristic of this watershed effort lies in how it resists definitive interpretation and encourages free thought-the very principles with which Davis conceived the everlasting beauty and fascination that is Bitches Brew."
Musicians:

Miles Davis, primary artist, trumpet
Dave Holland, bass
Harvey Brooks, bass, electric bass, bass guitar, electric guitar
Bennie Maupin, bass clarinet
Airto Moreira, cuica, percussion
Don Alias, congas, drums, percussion
Jumma Santos, congas, percussion, shaker
Jack DeJohnette, drums
Lenny White, drums
Billy Cobham, drums
Chick Corea, electric piano
Larry Young, electric piano
John McLaughlin, guitar, electric guitar
Joe Zawinul, organ, electric piano
Jim Riley, percussion
Wayne Shorter, soprano saxophone

Track Listing:

1. Pharaoh's Dance
2. Bitches Brew
3. Spanish Key
4. John McLaughlin
5. Miles Runs the Voodoo Down
6. Sanctuary
Click here to listen to samples on YouTube.com ♫