Harry Belafonte At Carnegie Hall 5LP 45rpm 200 Gram Vinyl Box Set Analogue Productions Sterling QRP USA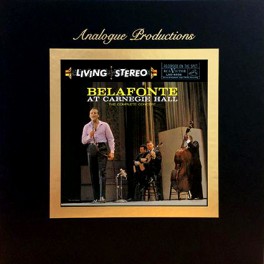 Maximize

Display all pictures
The grandaddy of all live albums, this recording captures the excitement of a Harry Belafonte concert at the height of his popularity. Always a musical chameleon, from a base of folk music, Belafonte added blues, soul, jazz, pop and a plethora of various Caribbean styles to create albums that were unique, socially relevant and just plain entertaining. One of the greatest live recordings ever made!
Rated 10/11 Music and 11/11 Sound by Michael Fremer (Analog Planet)
Nominated for Grammy Awards Album Of The Year in 1961
Featured in Vinyl Gourmet Audiophile TOP 100


Limited Edition
200 Gram Audiophile Vinyl
5LP 45rpm Box Set
Pressed at Quality Record Pressings USA
Mastered by Ryan K. Smith at Sterling Sound
Mastered from the original analog 3-track tapes
Plated by Gary Salstrom at QRP
Includes bonus tracks previously unavailable on vinyl
Described by reviewers as "the quintessential Belafonte package," Belafonte at Carnegie Hall captures the excitement of a Harry Belafonte concert at the height of his popularity. What Analogue Productions has done with this 5LP 45 RPM box set release exceeds other vinyl versions.

We've included the entire concert. The fifth disc in this premium set includes tracks heretofore missing from prior editions due to space limitations. They include Belafonte's spoken introduction before launching into the touching and tender "Scarlet Ribbons," followed by the orchestral overture.

Wait no more if you haven't heard this marvelous record. We've gone all out for this deluxe reissue. Starting with premier mastering by Ryan K. Smith at Sterling Sound from the original analog tapes. Spread over 5 LPs, the wider-spaced grooves reduce distortion and high frequency loss and let your stereo cartridge track more accurately.

Plating and pressing is by Gary Salstrom and the crew at Quality Record Pressings, where the finest quality LPs in the world are pressed. But it doesn't stop there: We've enhanced the original studio photography and housed the collection in a custom-designed slipcase box.

Belafonte's mastery in front of an audience was never better displayed than here, a mastery that resulted in him becoming one of the most popular concert draws in history. From the opening trumpet fanfare to the epic 12-minute version of "Matilda" (which set a standard for audience participation), the album never lets up!
"Belafonte brought 'world' music to the masses, starting with 'Calypso.' ... By the time these two benefit concerts were performed on April 19th and 20th 1959, Belafonte had amassed a catalog of hits familiar to a wide swath of Americans. ... One can argue that originals are the best but not here. No way! Unlike the original pressings mastered from 2-track mix down from the 3-track original tape, Classic Records' reissue on both 33 1/3 and single-sided 45 RPM records and this new mastering are sourced directly from the 3-track tape. ... However, while I didn't think there was more to get from the tape than what Bernie Grundman got for Classic Records, I think Ryan K. Smith and the Sterling team have done just that, showcased by the utter black QRP backgrounds. ... it is among the greatest, if not the greatest live concert recordings ever made and Belafonte's and the orchestra's performances make it well-worth revisiting." Music = 10/11; Sound = 11/11 - Michael Fremer, Analog Planet
Harry Belafonte has always been a musical chameleon. Using a thick base of folk music, he added blues, soul, jazz, pop and a plethora of various Caribbean styles to create albums that were unique, socially relevant and just plain entertaining. The first of his two essential live recordings produced by Bob Bollard at New York's famed Carnegie Hall features material culled from two identical performances on April 19 and April 20, 1959 to benefit The New Lincoln School and Wiltwyck Scholl respectively.

Belafonte At Carnegie Hall was documented at the height of the singer's success when it wasn't fashionable to record outside of the studio environment, yet it proved to be an artistic and commercial breakthrough for the music legend, earning a nomination for Album of the Year at the 1961 Grammy Awards and lingering on the charts for over three years. The revered 19-track affair is divided into the three acts Moods of the American Negro, In the Caribbean, and Round the World, and finds Belafonte's world class voice wonderfully supported by a a small combo of two guitars, bass, and percussion, and a perfectly timed 47-piece orchestra conducted by Robert Corman.

"You can count on one hand the number of times recording microphones happen to be "on the scene" at the right time and the right place to capture an inspired moment of performance. This is one of those few. What started as almost a reckless recording risk turned into another giant statement in the Belafonte story. The idea of taping the two Carnegie Hall Benefit performances was not Harry's; we asked for it, part hunch, part wild gamble.

"Recording hazards were many: – immense preparations and permissions with musicians, stage hands and the hall, – microphoning a performer who roamed all over the stage, shouted, whispered, provoked audience singing, – accompaniments which varied from a 47-piece symphony to a single guitar and bongos, – and, above all, the one-time-only chance for a good pickup and performance.

"All of these undoubtedly added their impetus and made this concert soar. The exciting fact is that we can actually hear it as it happened. Belafonte's spontaneous sorcery with an audience is on disc for the first time. Through the expectant audience hush, the beating introduction, the opening shots of Darlin' Cora, the Belafonte high voltage mounts by the moment. This is Belafonte "live."

"Almost one whole side has been reserved for the concert climax: the famous uncut Belafonte treatment of Matilda. All Carnegie Hall sings and rocks – the same mighty crescendo which took place at a packed Waldorf Ballroom, Lewisohn Stadium and personal appearances everywhere. But this time for all of us via microphone and tape machine.

"There has been no re-recording of rehearsals or sound tries, no splicing, (there rarely is even on Belafonte studio performances). This is what actually happened. The same songs were programmed both evenings. Performances selected here are about equally divided between the two nights." - Bob Bollard, original album liner notes


Musicians:

Bob Bollard (producer)
Robert Corman (conductor)
Harry Belafonte (vocals)
Millard Thomas / Raphael Boguslav (guitar)
Norman Keenan (bass)
Danny Barrajanos (percussion)
47-Piece Orchestra

Track Listing:

Act 1: The Moods of the American Negro
Act 2: In The Caribbean
Act 3: Round The World


Side A
1. Introduction/Darlin' Cora
2. Sylvie
3. Cotton Fields

Side B
1. John Henry
2. Take My Mother Home

Side C
1. The Marching Saints
2. Day O
3. Jamaica Farewell

Side D
1. Man Piaba
2. All My Trials

Side E
1. Mama Look A Boo Boo
2. Come Back Liza
3. Man Smart (Woman Smarter)

Side F
1. Hava Nageela
2. Danny Boy
3. Merci Bon Dieu

Side G
1. Cu Cu Ru Cu Cu Paloma
2. Shenandoah

Side H
1. Matilda

Side I
1. Harry Belafonte (Spoken intro)
2. Scarlet Ribbons

Side J
1. Overture Medley ( instrumental)


Recording: April 1959 live at Carnegie Hall, New York, by Bob Simpson
Click here to listen to samples on YouTube.com ♫