Good Vibes At The Pawnshop Jazz Club LP 180 Gram Vinyl Erstrand Domnérus Proprius Records 2017 EU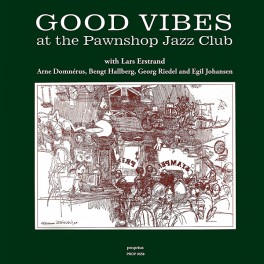 Maximize

Display all pictures
Artist:
Arne Domnérus
Title:
Good Vibes At The Pawnshop
Catalog Number:
PROP 9558
Label:
Proprius
Reissued by:
Proprius
Barcode:
822359001756
Original release year:
1976
Reissue year:
2017
Number of discs:
1
Revolutions per minute:
33⅓ rpm
Disc size:
12"
Vinyl Weight Grade:
180gr
Total Item Weight:
270r
Pressing country:
EU
For Market Release in:
EU
Added to catalog on:
February 7, 2018
Note:
Never eligible for any further discounts
Vinyl Gourmet Club:
No
The last album of the famous Jazz at the Pawnshop sets recorded live at the famous Old Town Jazz Club Stampen Pawnshop in Stockholm, Sweden. Recorded on the second night of a memorable live performance in December 1976, that night the Arne Domnérus quartet was augmented by Lars Erstrand on vibes. One of the best sounding live jaz recordings ever made.
Jazz at the Pawnshop is considered one of the most famous audiophile albums in music. Recorded over two nights at the intimate Pawnshop jazz club in Stockholm, both the musicianship and the engineering came together in a magical symbiosis captured on this enduring classic. Recording engineer Gert Palmcrantz used one pair of microphones spaced eight inches apart for the main pick-up, with a couple of microphones placed to register the "live" atmosphere and a few discrete support mikes, all recorded on a pair of two-track Nagra tape recorders in the restaurant kitchen!

"... widely regarded as one of the most natural-sounding jazz recordings of all time ... a long-standing audiophile reference ... contains excellent music and performances." - Enjoy The Music

"I have experienced many marvellous jazz studio recordings, but this, facing a live audience, is where jazz functions and becomes that esoteric glue that bonds people, regardless of nationality or race" - Gert Palmcrantz, recording engineer
In an advertisement for Proprius some years ago, the label's founder Jacob Boëthius wrote: "A small record company can't afford to put out bad discs. And you, the music lover, must be confident that what you buy is good". He was aware that, in the final analysis, quality is what counts with regard to clients, record buyers, artists and sound engineers. Being considered an "audiophile label", quality in every aspect has been the hallmark of Proprius for over 30 years, and so it will continue.

Proprius was founded over 30 years ago by Tryggve Palmquist. Proprius is one of Sweden's eminent labels for audiophiles that offers a wide range of classical music recordings of high quality and high sonic potency. Besides classical music, the label offers recordings in several other genres, including jazz, opera/operetta, Christmas music, popular music, Klezmer, and numerous recordings of several individual instruments and soloists.

Proprius' repertoire consists mainly of music by acclaimed Swedish and Scandinavian composers and artists. The label has a large collection of remarkable organ, religious and baroque music interpreted by choirs, vocal soloists and soloists performing various instruments such as brass, cello, flute, guitar, harpsichord, piano, string quartet, violin. The catalogue also includes several works of composers such as Bach, Mozart and Schubert.
Musicians:
Lars Erstrand, vibes
Arne Domnerus, alto sax, clarinet
Bengt Hallberg, piano
Georg Riedel, bass
Egil Johansen, drums
Track Listing:
01. Now's the Time
02. Out of Nowhere
03. In a Mellow Tone
04. Take the A Train
05. Jeepers Creepers
06. Struttin' with some Barbeque