Oscars Motettkör Cantate Domino LP 180 Gram Vinyl Super Analogue Disc Proprius Records 2017 EU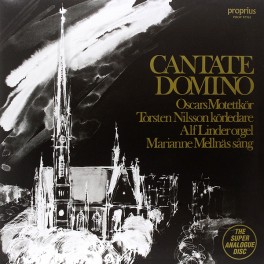 Maximize
Artist:
Oscars Motettkör
Title:
Cantate Domino
Catalog Number:
PROP 07762
Label:
Proprius
Reissued by:
Proprius
Barcode:
822359033627
Original release year:
1976
Reissue year:
2017
Number of discs:
1
Revolutions per minute:
33⅓ rpm
Disc size:
12"
Vinyl Weight Grade:
180gr
Total Item Weight:
309gr
Pressing country:
EU
For Market Release in:
EU
Added to catalog on:
February 7, 2018
Note:
Never eligible for any further discounts
Vinyl Gourmet Club:
No
Cantate Domino, recorded by legendary sound engineer Bertil Alving in 1976, is widely regarded as one of the greatest audiophile masterpieces ever recorded. Opening with Enrico Bossi's 'Cantate Domino' for choir, organ, trumpets and trombones, the choral album includes a number of Swedish folk songs as well as pieces by Handel, Otto Olsson, and others.
Stereophile Magazine Record to Die For
This remarkable album, for many years appreciated for its exquisite sound quality in the recording of choral and solo voices- set a new standard in sound engineering.
A glorious recording — one that has been a favorite among audiophiles since its initial release — Cantate Domino is a collection of religious music primarily intended for the Christmas season.
It was recorded in the Oscarskyrkan, a church in Stockholm in 1976. It features the Oscar's Motet Choir conducted by Torsten Nilsson with soprano, Marianne Mellnäs and organist, Alf Linder. Some of the selections will be unfamiliar to American listeners but others will be known immediately, even though they are sung here in a variety of languages, French, German and Swedish among them. The choir and organist perform very well, as does the featured soprano soloist who, in fact, sings "O Holy Night" better than I had ever heard it sung before — or since, for that matter. While the bulk of the recording is choral, there are several pieces for solo organ too; the album ends on a non-religious note with Irving Berlin's "White Christmas" sung in English.
Musicians:

Oscar's Motet Choir
Torsten Nilsson, conductor
Alf Linder, organ
Marianne Mellnas, soprano
Track Listing:

Enrico Bossi
1. Cantate Domino

Joahnn Gottfried Walther
Concerto For Organ in A-Major
2. I. Allegro
3. II. Adagio
4. III. Allegro

Otto Olsson
5. Advent

George Friederic Handel
6. Dotter Sion, frojda dig
(Daughter of Zion, Rejoice!)

Georg Joseph Vogler
7. Hosianna Davids Son
(Hosanna to the Son of David)

Traditional
8. Frojda Dig, du Kristi brud
(Rejoice, you bride of Christ)

Korean Folksong
9. Lullaby

French Carol
10. Il Est Ne Le Divin Enfant
(Christ is Born the Child Divine)

Adolf Adam
11. Julsang (Christmas Song)
Traditional
12. Den signade dag
(O Day Full of Grace)

Franz Gruber
13. Stille Nacht (Silent Night)

Maz Reger
14. Mariae Wiegenlied

Otto Olson
15. Jul (Christmas)

Czech Folksong
16. Zither Carol

Irving Berlin
17. White Christmas
Click here to listen to samples on YouTube.com ♫