Arne Domnérus with Gustaf Sjökvist ‎Antiphone Blues LP 180 Gram Vinyl Proprius Records 2017 EU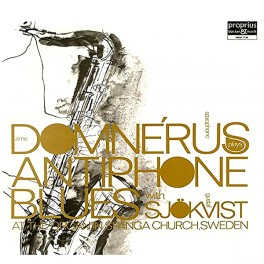 Maximize
Artist:
Arne Domnérus
Title:
Antiphone Blues
Catalog Number:
PROP 7744
Label:
Proprius
Reissued by:
Proprius
Barcode:
822359001718
Original release year:
1975
Reissue year:
2017
Number of discs:
1
Revolutions per minute:
33⅓ rpm
Disc size:
12"
Vinyl Weight Grade:
180gr
Total Item Weight:
269gr
Pressing country:
EU
For Market Release in:
EU
Added to catalog on:
February 6, 2018
Note:
Never eligible for any further discounts
Vinyl Gourmet Club:
No
Considered one of the best recording of saxophone performance in decades. Legendary saxophone player Arne Domnerus is at the height of his mastery of the instrument. The sonic excellence brings about heartfelt emotion to the listener, by mingling contemporary and ancient music, innovative new sounds are emerging, a new musical idiom unlike anything you have heard before.
Can you still be shocked? In the sixties, organ and saxophone might have been an unacceptable combination of instruments. But now that the walls of musical prejudice have crumbled, and we experiment freely, mingling contemporary and ancient music, innovative new sounds are emerging. Just think for a moment of Duke's "Sacred concerts..." then listen and experience a new musical idiom unlike anything you have heard before.

In an advertisement for Proprius some years ago, the label's founder Jacob Boëthius wrote: "A small record company can't afford to put out bad discs. And you, the music lover, must be confident that what you buy is good". He was aware that, in the final analysis, quality is what counts with regard to clients, record buyers, artists and sound engineers. Being considered an "audiophile label", quality in every aspect has been the hallmark of Proprius for over 30 years, and so it will continue.

Proprius was founded over 30 years ago by Tryggve Palmquist. Proprius is one of Sweden's eminent labels for audiophiles that offers a wide range of classical music recordings of high quality and high sonic potency. Besides classical music, the label offers recordings in several other genres, including jazz, opera/operetta, Christmas music, popular music, Klezmer, and numerous recordings of several individual instruments and soloists.

Proprius' repertoire consists mainly of music by acclaimed Swedish and Scandinavian composers and artists. The label has a large collection of remarkable organ, religious and baroque music interpreted by choirs, vocal soloists and soloists performing various instruments such as brass, cello, flute, guitar, harpsichord, piano, string quartet, violin. The catalogue also includes several works of composers such as Bach, Mozart and Schubert.
Musicians:

Arne Domnérus, saxophone
Gustaf Sjökvist, organ
Track Listing:

01. Almighty God
02. Nobody Knows The Trouble I've Seen
03. Sometimes I Feel Like A Motherless Child
04. Antiphone Blues
05. Jag vet en dejlig rosa
06. Traumerei
07. Come Sunday
08. Heaven
09. Entonigr Klingar den Lilla Klockan
10. Den signade dag
11. Largo

Recorded 26 August 1974.
Click here to listen to samples on YouTube.com ♫