Beethoven Symphony No. 6 Pastorale Bruno Walter 2LP 45rpm 200g Vinyl Analogue Productions QRP 2017 USA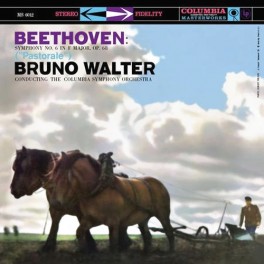 Maximize
Artist:
Bruno Walter
Title:
Beethoven Symphony No. 6 "Pastorale"
Catalog Number:
APC 077-45
Label:
Columbia
Reissued by:
Analogue Productions
Barcode:
753088774577
Original release year:
1958
Reissue year:
2017
Number of discs:
2
Revolutions per minute:
45 rpm
Disc size:
12"
Vinyl Weight Grade:
200gr
Limited Edition:
Yes
Total Item Weight:
713gr
Pressing country:
USA
For Market Release in:
USA
Added to catalog on:
January 12, 2018
Collection:
Columbia Masterworks
Note:
Never eligible for any further discounts
Vinyl Gourmet Club:
No
Bruno Walter helped shape the very essence of interpretive style among conductors. Walter's rendition of Beethoven's sixth symphony is perhaps the greatest ever recorded, his reading of the score comes off sounding like a piece of literature or poetry, but that is a great thing and perfectly blends with the music to create a benchmark recording.
TAS Super LP List - The Absolut Sound
Limited Edition
2LP 45rpm 200 Gram Audiophile Vinyl
Cut from Original Analog Master Tapes
Pressed at Quality Record Pressings QRP USA
Lacquers plated by Gary Salstrom
Mastered by Ryan K. Smith at Sterling Sound
Deluxe Gatefold Cover "tip-on"
Photos from the Sony Music Archives
And here, once again, Analogue Productions has taken a classic and shaped it to make the premier reissue of this famed LP. Ryan Smith at Sterling Sound mastered this album from the original analog tapes. The cut lacquers were plated and pressed to 200-gram vinyl by Quality Record Pressings. The Stoughton Printing old-style tip-on gatefold jacket has been upgraded handsomely by a series of rarely-seen photos of Walter from the Sony Music Archives. Everything about this reissue radiates quality.
Written in 1808, Beethoven's Symphony No. 6 in F Major ("Pastoral"), Op. 68, is deemed one of the most influential by the famed composer. Unlike the vast majority of assumed names by which his works have become known, Beethoven directed from the very outset that his sixth symphony be titled "Pastoral Symphony," or a recollection of country life. It was a musical approach to the forces of nature that inspired Beethoven.
Walter's late life was marked by stereo recordings with the Columbia Symphony Orchestra, an ensemble of professional musicians assembled by Columbia Records for recordings.
Originally released in 1958, this recording still sounds fresh, with a broad soundstage, persuasive depth, and a remarkable sense of "air" and presence. Simply because of Walter's vibrant, fluid interpretation, taking into account both variable tempi and heightened accents, the result is one of the most passionate, awe-inspiring recorded versions of this symphony that's ever been recorded.
"One can debate at length which of the hundreds of recordings of this symphony is superior, but few would debate that this recording has been at the top of many lists of audiophile favorites for decades because of its superior interpretation and remarkable early stereo sound. ... Analogue Productions has thrown its hat in the (reissue) ring with this Harry Pearson Super Disc — one of the best recorded great interpretations of one of the greatest pieces of music that exists. While the top end sheen may be more subdued, the release surpasses the original in depth and width of soundstage and firmness of grip of the orchestra. Highest recommendation." — Dennis D. Davis, Hi-Fi+, Recording = 10/10; Music = 10/10
Ludwig Van Beethoven (1770-1827)
Symphony No. 6 in F Major, Op. 68 "Pastorale"
The Columbia Symphony Orchestra
Bruno Walter, conductor
Track Listing:
1. I. Allegro ma non troppo (The awakening of joyful feelings upon arrival in the country)
2. II. Andante molto moto (The Brook)
3. III. Allegro (Village Festival)
4. IV. Allegro (The Storm)
5. V. Allegretto (Shepherd's Song)