Clare Teal A Tribute To Ella Fitzgerald LP 180g Vinyl D2D Air Studios Direct Cut Chasing The Dragon 2016 EU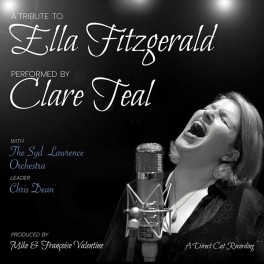 Maximize

Display all pictures
Artist:
Clare Teal
Title:
A Tribute To Ella Fitzgerald
Catalog Number:
VALDC003
Label:
Chasing The Dragon
Original release year:
2016
Number of discs:
1
Revolutions per minute:
33⅓ rpm
Disc size:
12"
Vinyl Weight Grade:
180gr
Total Item Weight:
350gr
Pressing country:
Germany
For Market Release in:
EU
Added to catalog on:
December 20, 2017
Note:
Never eligible for any further discounts
Vinyl Gourmet Club:
No
Talented singer Clare Teal performs A Tribute To Ella Fitzgerald with The Syd Lawrence Orchestra led by Chris Dean. Cut direct to lacquer for optimum sound quality. Recorded June 28, 2016, at Air Studios, London. Standards like 'I've Got You Under My Skin', 'I Get A Kick Out Of You' and 'Anything Goes' all rehearsed, mixed and live cut directly to vinyl, in one day!
Rated 10/11 Music and 10/11 Sound by Michael Fremer (Analog Planet)


180 Gram Audiophile Vinyl
Cut live Direct-To-Disc
Gatefold Cover
Recorded at Air Studios
Pressed at Optimal in Germany
"No left turns here, no postmodern reappraisals -- just straight-ahead swing...And the sequencing is superb. Side A kicks off with three softly swinging numbers, and then, on "Ding Dong the Witch is Dead", the orchestra raises the energy level a notch or three -- enough to make one very curious about Side B, where, indeed, the music roars that much more, climaxing with "Too Darn Hot", where Teal and the orchestra peak at the same time, yet sonics remain clean, with nice-sounding highs." - Jeff Wilson, The Absolute Sound

"Being a Direct Cut Disc, this meant that performing would need to be done all in one go without any post-editing. In my career, I have often found that musicians, narrators and actors perform better knowing that it is "as live"; often the 'security' of having the facility to edit any mistakes at a late date prompts hap-hazard performances…Being a live recording, with no stops between tracks, any rustling of pages or noises from trumpet and trombone mutes being picked up for quieter sections, or even vocal injections from the leader, Chris Dean, only add to the "liveliness" of the album." - Janine Elliot, Hifi Pig Magazine

"Teal, for all intents and purposes, sounds like a 1940's era singer transported to 2016, not just in her phrasing but particularly her vocal timbre. I can think of no other female vocalist today who hits this particular nostalgic mark and does so without it sounding forced or archaic. Instead it sounds refreshing and generous." - Michael Fremer, Analog Planet, 10/11 Music, 10/11 Sound

"Everyone's ears perked up when I played this at RMAF. The playing is crisp (under the direction of Chris Dean), the arrangements are dynamic with nicely placed hard-driving kick drum accents, and Clare sounds, for all intents and purposes, like the fourth Andrews Sister. We should be grateful that someone is taking the time and spending the money to produce a direct to disk record but more grateful that the music lives up to the sonic promise." - Michael Fremer, Analog Planet, 10/11 Music, 10/11 Sound

"I was looking for a "you are there" balance. Have we achieved it? Well, I loved the shuffling sound of the band turning the pages of the score and if you listen carefully, you can almost hear Chris the leader, counting everyone in...And the overall sound quality? Well, I think our new album has the "jump factor", but this time I hope that you will feel that Clare is standing right in the center of the speakers and if there was a knob on the desk, which was marked foot tapping, I have this time been able to turn it all the way up to ten." - Mike Valentine, producer
Musicians:

Clare Teal, vocals
The Syd Lawrence Orchestra
Track Listing:

Side A
1. I've Got You Under My Skin
2. Begin The Beguine
3. I Get A Kick Out of You
4. Ding Dong The Witch Is Dead

Side B
5. Night And Day
6. Anything Goes
7. That Old Black Magic
8. Too Darn Hot