Pink Floyd A Collection Of Great Dance Songs LP 180g Vinyl Remastered Bernie Grundman Warner 2017 EU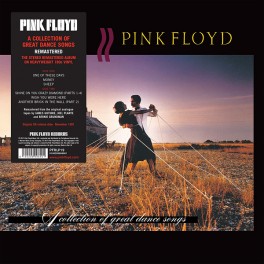 Maximize

Display all pictures
Artist:
Pink Floyd
Title:
A Collection Of Great Dance Songs
Catalog Number:
PFRLP19
Label:
Harvest
Reissued by:
Warner
Barcode:
0190295996901
Edition:
Pink Floyd Remasters
Original release year:
1981
Reissue year:
2017
Number of discs:
1
Revolutions per minute:
33⅓ rpm
Disc size:
12"
Vinyl Weight Grade:
180gr
Total Item Weight:
308gr
Pressing country:
EU
For Market Release in:
EU
Added to catalog on:
December 2, 2017
Collection:
Pink Floyd Complete Studio Albums
Note:
Not eligible for any further discounts
Vinyl Gourmet Club:
No
A Collection of Great Dance Songs was released in 1981 and featured some alternate mixes along with classic tracks from the band's past, including Another Brick in the Wall (Part 2), Money, Comfortably Numb, Wish You Were Here, Run Like Hell and Shine on You Crazy Diamond. Remastered by Bernie Grundman and pressed on 180 Gram vinyl.
Pink Floyd 2016 Remasters
Remastered from the Original Master Tapes
LP 180 Gram Audiophile Vinyl
Mastered by James Guthrie and Joel Plante
Vinyl cut by Bernie Grundman
Pressed at Record Industry in Holland
Reproduction of Original Artwork
On 3 June 2016, Pink Floyd Records will begin the reintroduction of the Pink Floyd catalogue on vinyl for the first time in over two decades. Pink Floyd Records will reproduce the vinyl catalogue throughout the year with release dates being announced at regular intervals.
Special care has been taken to replicate the original packaging. The first batch of releases, mastered by James Guthrie, Joel Plante and Bernie Grundman will be pressed on 180gram vinyl for optimum sound quality.
Pink Floyd featuring Syd Barrett, Roger Waters, Rick Wright and Nick Mason first broke onto the music scene in 1967, with the hit single 'Arnold Layne'. Despite the departure of Syd Barrett, the group, which now included David Gilmour, recorded some of the most innovative and ground breaking records of the time, culminating in 1973 with one of the biggest selling albums of all time, 'The Dark Side Of The Moon'. There followed numerous global number 1 albums, including, 'The Wall', 'Animals', 'Wish You Were Here', 'The Final Cut' and 2014's finale, 'The Endless River'.
Pink Floyd Records releases will be manufactured and distributed by Warner Music for the UK and Europe and by Sony Music for North America and the rest of the world.
Track Listing:
1. One of These Days
2. Money
3. Sheep
4. Shine On You Crazy Diamond (Parts 1-4)
5. Wish You Were Here
6. Another Brick In The Wall (Part 2)
Click here to listen to samples on YouTube.com ♫