R.E.M. Lifes Rich Pageant LP 180g Vinyl Mobile Fidelity Sound Lab RTI USA Numbered Limited Edition MFSL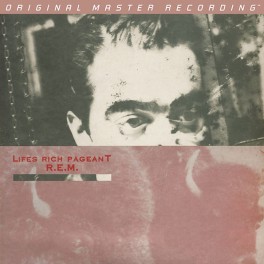 Maximize
Very few albums are regularly credited with changing people's lives. R.E.M.'s Lifes Rich Pageant is one of them. For a generation that came of age in the '80s, as well almost everyone that came within earshot of its contents, the Georgia band's 1986 landmark effort remains an utterly distinctive sonic blend of elegance and whimsy, seriousness and humor, artfulness and accessibility.
Numbered Limited Edition
180 grams High Definition Vinyl pressed at RTI
Half-Speed mastering on MFSL Gain 2 Ultra Analog System
Mastered by Mobile Fidelity Sound Lab
Cut from the Original Analog Master Tapes
Mastered by Shawn R. Britton
Special Static Free & Dust Free Inner Sleeves
Deluxe Gatefold heavy duty cover
Half-speed mastered from the original master tapes and meticulously pressed at RTI, Mobile Fidelity's 180g LP version of this masterwork allows the record's expressive punchiness, dynamic extension, treble-driven jangle, and more forceful playing to be experienced as originally intended.
Indeed, Life's Rich Pageant is notable for its production: Board operator Don Gehman lends the group a harder edge and cleaner sound than it had in the past. On this audiophile-grade reissue, the results come to the fore in the form of contemporary-sounding arrangements, cohesive structures, and cleaner tonalities. If anything, this LP helps make the case for the many that Life's Rich Pageant, not Murmur or Reckoning, stands as the band's finest hour.


Track Listing:

Dinner Side:
1. Begin the Begin
2. These Days
3. Fall On Me
4. Cuyahoga
5. Hyena
6. Underneath the Bunker

Supper Side:
1. The Flowers of Guatemala
2. I Believe
3. What If We Give It Away?
4. Just A Touch
5. Swan Swan H
6. Superman

Click here to listen to samples on AllMusic.com