Procol Harum A Salty Dog LP 180g Vinyl Mobile Fidelity Sound Lab Limited Numbered Edition RTI 2017 USA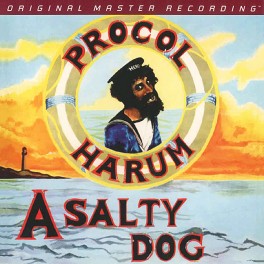 Maximize
Procol Harum stood apart for its aptitude to blend classical figures with rock motifs without coming across as self-indulgent or contrived. Graced with commanding mood pieces, the group's 1969 album A Salty Dog exhibits the band's distinctive talents and genre-jumping breadth with an idyllic fusion of performance, composition, and sound.
Strictly Limited Edition of

3000 Units

Numbered Edition
LP 180 Gram High Definition Vinyl pressed at RTI USA
Half-Speed mastering on MFSL Gain 2 Ultra Analog System
Mastered by Mobile Fidelity Sound Lab
Cut from the Original Master Tapes
Mastered by Krieg Wunderlich & Rob LoVerde
Special Static Free & Dust Free Inner Sleeves
Deluxe Cover
Procol Harum Fuses Classical Structures, Rock Motifs, and Sweeping Melodies with Unparalleled Virtuosity: A Salty Dog Features Ravishing Symmetry Between Piano, Organ, Guitar, and Strings. Mastered from the Original Master Tapes for Reference-Level Sound, Clarity, and Presence: Ultra-Dynamic Mobile Fidelity 180g Vinyl LP Limited to 3,000 Numbered Copies.

A call for "all hands on deck" opens Procol Harum's third album, and with that command, an effort that witnesses the band coming into its own as a collective capable of fusing classical structures with rock motifs via an expertise, virtuosity, and style matched by none of its peers is on its way to making history. A Salty Dog survives as proof no other artist ever sounded like Procol Harum – while also demonstrating few collectives boasted a lineup full of such ace instrumentalists. Stacked with exploratory themes, boundary-crossing directions, and sweeping melodies, A Salty Dog proudly veers off traditional course and ventures to intrepid places forbidden to even the most thrill-seeking groups of the highly experimental era.

Mastered from the original master tapes, pressed at RTI, and strictly limited to 3,000 numbered copies, Mobile Fidelity's 180g vinyl LP takes its place as the definitive-sounding analog version of the record. The intertwined symmetry between organist Matthew Fisher and pianist Gary Brooker, central to every song on the set, gets revealed with newfound detail, openness, and clarity. Produced by Fisher, A Salty Dog now resonates with a presence and immediacy stunted on prior editions. The full-bodied tones, front-to-back imaging, and grand dynamics inherent on this audiophile edition elevate the 1969 favorite to landmark status. In addition, the evocative cover art, which pays homage to the Player's Navy Cut logo, is reproduced in faithful-to-the-original fashion.

The cinematic breadth of the sonics parallels the scope of the bold arrangements, which include strings, recorders, bells, celeste, and a myriad of guitars. Brooker and Fisher split vocal duties, save for on "Crucifiction Lane," which boasts a rare lead from marvel-in-the-making Robin Trower. The latter's prodigious guitar lines add another distinctive element to the compositions and further up the ante of the interplay between Brooker and Fisher. Trower accents tracks such as the topsy-turvy "The Milk of Human Kindness" with bluesy vibes and jolts "Juicy John Pink" by way of jukejoint energy. Not to be outdone, B.J. Wilson's still-unsung percussion draws from R&B and swing techniques to supply a natural albeit firm footing.

For all the proficient playing and narrative storytelling, the most impressive feat surrounding A Salty Dog remains its accessible complexity and relative modesty. Procol Harum never comes across as pretentious, self-indulgent, or contrived. Anchored by Fisher's unique Hammond M102 organ riffs, the works function as a summation of their parts. Tunes like "Wreck of the Hesperus" serve as wondrously varied tapestries stitched with swelling chamber rhythms, barbed thickets of distortion, and thundering progressions. It's a ravishing picture of majestic subtlety and sheer power.

NME wrote shortly after the record's release that "the most exciting facet of this tremendous album is not so much that it contains the Procols' best recorded works to date, but that their potential is still nowhere near being fully spent." Rolling Stone concurred, observing, "'Too Much Between Us' is the kind of song you can float away on – its background and vocal of marimba and acoustic guitar in a perfectly understated waltz-time are beautifully ethereal."

A notable footnote, Fisher departed Procol Harum shortly after the release of A Salty Dog, permanently impacting the band's trajectory and sound. His performances here are just one reason this inimitable album carries sway nearly five decades after its release. Experience it as it's meant to be heard!

"If you love this record I think you will be very happy you bought Mobile Fidelity's reissue. Your happiness will begin on the opening track when Brooker begins singing and the strings enter. You've never heard Brooker sound so tonally "Brookerish", nor have the string harmonies ever sounded so lush and 'right.'" — Michael Fremer, Analog Planet (Music = 9 / Sound = 9)
Bass Guitar – David Knights
Drums, Congas, Tabla – Barrie Wilson
Lead Guitar, Acoustic Guitar – Robin Trower
Organ, Piano, – Matthew Fisher
Vocals, Piano, Guitar, Harmonica – Gary Brooker
Words By – Keith Reid
Track Listing:

Side A
01. A Salty Dog
02. The Milk Of Human Kindness
03. Too Much Between Us
04. The Devil Came From Kansas
05. Boredom

Side B
06. Juicy John Pink
07. Wreck Of The Hesperus
08. All This And More
09. Crucifiction Lane
10. Pilgrims Progress