Radiohead OK Computer Oknotok 1997 2017 3LP 180g Vinyl 20th Anniversary Edition XL Recordings 2017 EU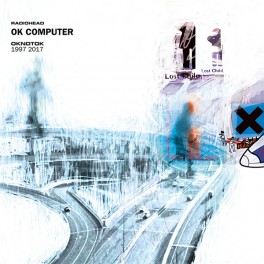 Maximize

Display all pictures
Artist:
Radiohead
Title:
OK Computer Oknotok 1997 2017
Catalog Number:
XLLP868
Label:
Parlophone
Reissued by:
XL Recordings
Barcode:
634904086817
Edition:
20th Anniversary Edition
Original release year:
1997
Reissue year:
2017
Number of discs:
3
Revolutions per minute:
33⅓ rpm
Disc size:
12"
Vinyl Weight Grade:
180gr
Extras:
Download Code
Total Item Weight:
930gr
Pressing country:
Germany
For Market Release in:
EU
Added to catalog on:
October 27, 2017
Note:
Never eligible for any further discounts
Vinyl Gourmet Club:
No
Masterpiece and instant classic upon release in 1997, OK Computer revealed Radiohead as one of the most important creative forces and proeminent bands in the world, a label that stayed with them ever since. Combining elements of epic prog rock with alternating time signatures and traditional pop songwriting, OK Computer was an artistic departure for Radiohead and true sign of the band's ambitions.
Rolling Stone 500 Greatest Albums of All Time Rated 162/500
20th Anniversary Edition
3LP 180 Gram Vinyl
Remastered From Original Analogue Tapes
Original album + 3 unreleased tracks & 8 B-sides
Gatefold Cover
Download Code
Featuring Remastered OK Computer, B-Sides and three never before released tracks: "I Promise," "Lift," and "Man Of War." Rescued from defunct formats, prized from dark cupboards and brought to light after two decades in cold storage... OKNOTOK will be issued June 23 on XL Recordings, coinciding (roughly) with the original 1997 release date(s) of Radiohead's landmark third album OK Computer. OKNOTOK features the original OK Computer 12 track album, eight B-sides, and the Radiohead completist's dream: "I Promise," "Lift," and "Man Of War."

The original studio recordings of these three previously unreleased and long sought after OK Computer-era tracks finally receive their first official issue on OKNOTOK. All material on OKNOTOK is newly remastered from the original analogue tapes. Digital formats, double CD, and triple 180-gram LP versions of the 23 track album will be released widely on June 23rd.

OK Computer was originally released on various dates ranging from May to July 1997. Produced by the band and Nigel Godrich, the album is widely cited as one of the greatest works of Radiohead's — or any artist's — catalog and was the first Radiohead record to reach No. 1 in the U.K. and to be be nominated for the Album of the Year Grammy. The album features singles "Paranoid Android," "Karma Police," "Lucky" and "No Surprises." In 2015, The National Recording Registry selected OK Computer to be preserved in the Library of Congress as a recording that has proven "culturally, historically, or aesthetically significant."
Track Listing:

01. Airbag
02. Paranoid Android
03. Subterranean Homesick Alien
04. Exit Music (For A Film)
05. Let Down
06. Karma Police
07. Fitter Happier
08. Electioneering
09. Climbing Up The Walls
10. No Surprises
11. Lucky
12. The Tourist
13. I Promise
14. Man Of War
15. Lift
16. Lull
17. Meeting In The Aisle
18. Melatonin
19. A Reminder
20. Polyethylene (Parts 1 & 2)
21. Pearly
22. Palo Alto
23. How I Made My Millions
Click here to listen to samples on YouTube.com ♫