Ted Nugent 2LP 45rpm 200 Gram Vinyl Ryan k. Smith Sterling Sound Analogue Productions QRP 2017 USA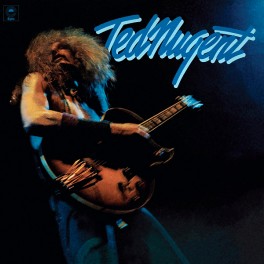 Maximize
Artist:
Ted Nugent
Title:
Ted Nugent
Catalog Number:
APP 33692-45
Label:
Epic
Reissued by:
Analogue Productions
Barcode:
753088336973
Original release year:
1975
Reissue year:
2017
Number of discs:
2
Revolutions per minute:
45 rpm
Disc size:
12"
Vinyl Weight Grade:
200gr
Limited Edition:
Yes
Total Item Weight:
704gr
Pressing country:
USA
For Market Release in:
USA
Added to catalog on:
October 3, 2017
Note:
Never eligible for any further discounts
Vinyl Gourmet Club:
No
Ted Nugent, released in 1975 and featuring singer / guitarist Derek St. Holmes, bassist Rob Grange and drummer Cliff Davies, is considered by critics and fans alike be the finest studio album of The Nuge's no-holds barred career. The self-proclaimed Motor City Madman and god of gonzo guitar become a bonafide rock 'n' roll star with this incredible album.
Limited Edition
2LP 45rpm 200 Gram Vinyl
Plated by Gary Salstrom
Pressed at Quality Record Pressings, QRP USA
Cut from the Original Analog Master Tapes
Mastered by Ryan K. Smith at Sterling Sound
Gatefold Cover
The best-sounding track - "Stranglehold" - has Side 1 all to itself! Cut at 45 RPM, spread over one whole side - Unbelievable Sound! Stranglehold indeed! Mastered by Ryan Smith at Sterling Sound using legendary mastering engineer George Marino's notes from his original mastering sessions with the original analog tapes. Remastered by Smith in George's mixing room using Marino's VMS 80 lathe. Gatefold cover, 200-gram vinyl plated by Gary Salstrom and pressed at Quality Record Pressings. Self-titled album made Nugent and his gonzo guitar a rock icon!

"There was a moment, in 1975 to be exact, when Ted Nugent was taken very seriously. As a musician. Before he decided to become whatever it is that he is now. ... Let's think back to 1975 when Ted was just a sex–crazed rock star who made a killer self–titled debut solo record that has now been remastered and reissued as a gatefold, by... Analogue Productions and Quality Record Pressings. While his songwriting interests have never really changed, these were the best takes on all those ideas that Nugent would from this point on build his career on. ... on Ted Nugent his guitar riffs were never sharper, his playing never less indulgent. This is a record where even the inner cuts like 'Just What the Doctor Ordered' and 'Queen of the Forest' were good to great." — Robert Baird, Stereophile.

The late and lauded mastering engineer George Marino at Sterling Sound mastered and cut the original 1975 release of Ted Nugent. Almost 40 years later, after some digging by George's protege, Ryan Smith, on behalf of this Analogue Productions reissue — lo and behold — George's mastering notes resurfaced as well as the original analog tape masters.

With the release of Ted Nugent, the self-proclaimed Motor City Madman and god of gonzo guitar became not just a star, but one of rock 'n' roll's icons. The songs "Motor City Madhouse" and "Just What The Doctor Ordered" would become two of many of Ted's road anthems. These and the other 10 monster tracks on Ted Nugent were clear evidence that Ted was an artist to be reckoned with.

Ted Nugent still likes to reflect back on what his critics were saying as he put his band, the Amboy Dukes, to rest and started the next phase of his career—one that would be under his own vision, his own direction and most importantly, his own name.

"I remember some of the more creative writers of the ilk claimed it would be 'the final nail in my coffin' — quote, unquote," Nugent says with a redemptive laugh. "I knew better."

The mention of Ted's name elicits different reactions from rock fans today in different parts of the country. Nods of familiarity on both coasts, and clenched fists and knowing grins in the vast Midwest and South. He's sold millions of albums. Rock radio couldn't play enough of him — and neither could promoters, who made him the hardest-working and top-grossing gunslinger of the mid- and late-'70s. While most other rockers posed with their sleek Stratocasters and Les Pauls, there was Nugent, whipping his mane of hair around his head as he cranked out sound on his big Gibson Birdland, a hog of a guitar with rich, thick and creamy tones — clearly not something to be trusted to amateurs. But in Nugent's hands it screamed, squealed and cried, providing a vivid 3-D voice for the monster crunch of "Stranglehold," the menacing stomp of "Stormtroopin" and the fiery boogie of "Hey Baby," "Motor City Madhouse" and "Snakeskin Cowboys."

You'll hear this classic more clearly and vividly than ever before on this reissue which was remastered by Ryan Smith in the late George Marino's mixing room at Sterling Sound using Marino's VMS 80 lathe and an ATR 102 tape machine modified by Mike Spitz—the only one of its kind in the world. This 200-gram vinyl beauty was pressed by Quality Record Pressings where it was plated for vinyl by Gary Salstrom, QRP's master plating technician and general manager. The power burned into these grooves is difficult to find anywhere else this side of the Atlantic, and indeed it remains a rare commodity anywhere in the world.
Track Listing:

Side A
1. Stranglehold

Side B
1. Stormtroopin'
2. Hey Baby
3. Just What the Doctor Ordered

Side C
1. Snakeskin Cowboys
2. Motor City Madhouse

Side D
1. Where Have You Been All My Life
2. You Make Me Feel Right At Home
3. Queen Of The Forest
Click here to listen to samples on YouTube.com ♫