Stokowski Rhapsodies 2LP 45rpm 180 Gram Vinyl RCA Living Stereo Analogue Productions QRP 2017 USA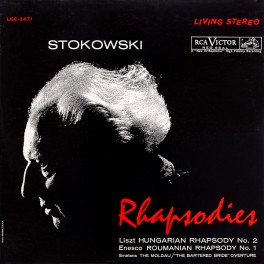 Maximize
Maestro Stokowski is at the podium and Bob Simpson is at the 3-track Ampex recorder to capture the Rhapsodies from Liszt, Enesco and Smetana. This is titanic glorious sound that will sink most speakers and amps for that matter. A must have performance. The original 3-track session tapes were used in mastering this LP from the Analogue Production reissue series.
Featured in Vinyl Gourmet Audiophile TOP 100
Limited Edition
2LP 45rpm 180 Gram Audiophile Vinyl
Cut from Original Analog Master Tapes
Pressed at Quality Record Pressings QRP USA
Lacquers plated by Gary Salstrom
Mastered by Ryan K. Smith at Sterling Sound
Deluxe "tip-on" Gatefold Cover
RCA's "golden age" was more like a "golden minute" - in a scant period, roughly from 1958 to 1963, the beginning of the stereo era - pure vacuum tube amplification helped produce recordings demonstrating unparalleled fidelity and warmth, lifelike presence and midband illumination.
Pressed at Quality Record Pressings and plated by Gary Salstrom. Packaged in the original tip-on jacket facsimiles that precisely duplicate the original cover art, including the "Living Stereo" logo, LSC numbers and "Shaded Dog" label. These reissues are designed from the mastering, to the cutting, to the pressing and packaging to be the finest RCA Living Stereo LPs ever reissued. These new versions are clearer than the originals and warmer and richer than past reissues!
"Stokowski, tears into Liszt's Second Hungarian Rhapsody with unrestrained gusto, rips into Enescu's First Romanian Rhapsody with unreserved panache, jumps into Smetana's Moldau with both feet, and grabs hold of the Venusberg music following Wagner's Tannhäuser Overture with undisguised passion. The Symphony of the Air, RCA's studio orchestra of the late '50s and early '60s, plays with more power than polish and more color than control, but, since that was probably what Stokowski was looking for, it only enhances the performance. RCA's Living Stereo sound was stunning in its day and staggering in our day. While certainly not for late-night listening, this disc will surely get you up in the morning." - James Leonard, All Music

"For what it is, it is as good as it gets. What it is is Leopold Stokowski's 1960 stereo recording called Rhapsodies containing four Eastern European orchestral blockbusters with the RCA Symphony Orchestra. What it was was the hottest, loudest, brashest, and sexiest LP from the age of stereo and RCA's sound is so real it might as well be in the room with you. Which would put Stokowski's lush, plush, and smooth orchestra with his extravagantly voluptuous tempo rubato sitting next to you. Stokowski's orchestra is sitting very, very close." - James Leonard, All Music
Musicians:

Leopold Stokowski, conductor
RCA Victor Symphony
Track Listing:

Franz Liszt (1811-1886)
Hungarian Rhapsody No. 2 in C-Sharp Minor
George Enescu (1881-1955)
Roumanian Rhapsody No. 1 in A, Op. 11
Bedrich Smetana (1824-1884)
The Moldau & The Bartered Bride: Overture
Click here to listen to samples on AllMusic.com ♫