Júlio Pereira Praça do Comércio LP Vinyl Numbered Limited Edition Autographed Tradisom Portugal 2017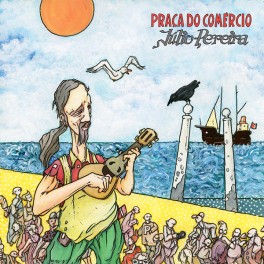 Maximize

Display all pictures
Artist:
Júlio Pereira
Title:
Praça do Comércio
Catalog Number:
TRADVIN001
Label:
Tradisom
Barcode:
9789728644208
Edition:
Special Edition
Original release year:
2017
Number of discs:
1
Revolutions per minute:
33⅓ rpm
Disc size:
12"
Extras:
12 Page Booklet
Limited Edition:
Yes
Numbered Edition:
Yes
Total Item Weight:
427gr
Pressing country:
EU
For Market Release in:
Portugal
Added to catalog on:
October 1, 2017
Collection:
Best New Music 2017
Note:
Never eligible for any further discounts
Vinyl Gourmet Club:
No
The 22nd album from Portuguese legendary musician Júlio Pereira puts the Cavaquinho instrument at center stage, and also plays for the first time its sibling from Madeira, the Braguinha. For this amazing new album Júlio assembled a team of extraordinary musicians to showcase the Cavaquinho, the Braguinha as well as the Portuguese Guitar and other exquisite acoustic instruments deeply rooted in Portuguese culture.
Vinyl Gourmet Best New Music 2017
Special Limited Edition (

1000 units

)
Numbered Edition
Autographed by Júlio Pereira
Gatefold Cover with 12 Page Booklet
Polylined inner-sleeve and clear plastic outer sleeve
Artwork by Carlos Zíngaro
It's an honor for us at Vinyl Gourmet to make available this amazing new Júlio Pereira album, released by Tradisom. This is another musical masterpiece from the legendary Portuguese musician, with excellent recording, mastering and pressing, highly recommended and not to be missed. Don't let this opportunity pass, order now one of the 1000 units of this numbered edition autographed by Júlio Pereira!
Find additional information about Júlio Pereira and these amazing musical instruments here:
Museu Cavaquinho Website / Júlio Pereira Website
Esta edição limitada em vinil, com capa formato gatefold, foi tornada num objecto de arte, sem texto, apenas contendo as ilustrações originais que Carlos Zíngaro criou para todos os temas do álbum. Uma edição limitada a 1000 exemplares numerados. Veja algumas ilustrações na galeria de fotos desta página.
O instrumento protagonista deste 22º disco de autor é o cavaquinho e onde, pela primeira vez, Júlio Pereira toca o seu parente Madeirense – o braguinha. Nele participam, além dos músicos que habitualmente o acompanham – Miguel Veras e Sandra Martins – vários instrumentistas de que se destacam, o canadiano James Hill (ukulele), José Manuel Neto (guitarra portuguesa), Pedro Jóia (viola) e Norberto Gonçalves da Cruz (bandolim). Colaboram, ainda, com as suas vozes, António Zambujo, Olga Cerpa (Canárias), Chney Wa Gune (Moçambique), Luanda Cozetti (Brasil) e outros.
Track Listing:
Side A
01. Voa Cavaquinho
02. Galope do Deserto
03. Comboio Azul
04. Noitada Extravagante
05. Ponte da Barca
06. Palácio das Necessidades

Side B
07. Índios da Meia-Praia
08. Dança da Lua Cheia
09. Praça do Comércio
10. The Common Raven
11. Lagoa das Sereias
Click here to listen to samples on YouTube.com ♫