Duke Ellington Masterpieces Ellington 2LP 45rpm 200 Gram Vinyl Analogue Productions Mono QRP USA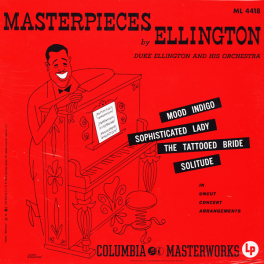 Maximize
Artist:
Duke Ellington
Title:
Masterpieces by Ellington
Catalog Number:
APJ 4418-45
Label:
Columbia
Reissued by:
Analogue Productions
Barcode:
753088441875
Original release year:
1951
Reissue year:
2017
Number of discs:
2
Revolutions per minute:
45 rpm
Disc size:
12"
Vinyl Weight Grade:
200gr
Limited Edition:
Yes
Total Item Weight:
711gr
Pressing country:
USA
For Market Release in:
USA
Added to catalog on:
September 29, 2017
Note:
Never eligible for any further discounts
Vinyl Gourmet Club:
No
Recorded in New York on December 1950 these four tracks were Ellington's first LP in the 12" format, issued on Columbia's Masterworks series, and it is among the earliest such LPs released by Columbia (1951). Containing three proven compositions, the fourth The Tattooed Bride was first played in 1948 in concert, and recorded in a studio session only now. An historic reissue and must have album!
2015 Stereophile Magazine Record to Die For

Rated 11/11 Music and 11/11 Sound by Michael Fremer (Analog Planet)

Limited Edition
2LP cut at 45rpm for ultimate sound quality!
Audiophile 200 Gram Vinyl
Plated and pressed at Quality Record Pressings QRP USA
Remastered by Ryan Smith at Sterling Sound
Cut from the original Analog Master Tapes
Gatefold Cover
Old-school "tip-on" by Stoughton Printing
Tracks presented in uncut concert arrangements
Presented in Original Mono
Recorded on an Ampex 200, using 3M-111 magnetic tape running at 15 inches per second. A historic recording just four years removed from the dawn of the analog tape era! Masterpieces By Ellington shines from an astonishingly brief period of history that gave the recording industry two of its greatest achievements — the introduction of magnetic tape recording and the 33 1/3 LP, or long-playing record.

Four years. That's all it took to go from the discovery by Americans, of German advancements in the field of sound recording, to the marketing of tape decks in the U.S. by the Ampex company, to Columbia's unveiling of its 12" LP, and the first long-playing record to be sold to consumers.

The four selections contained here catapulted the Maestro Ellington into the LP era, as the great composer/arranger/pianist and his matchless orchestra took full advantage of the possibilities afforded by magnetic tape recording and the still-new 33 1/3 RPM LP to, for the first time, capture uncut concert arrangements of their signature songs.

Suddenly, for the first time in his career, Ellington was able to forgo the 3 minutes-and-change restrictions afforded by the short running time of the 78 RPM disc. He and his band rose to the occasion with extended (11-minute plus) 'uncut concert arrangements' of three of his signature songs — "Mood Indigo," "Sophisticated Lady," with evocative vocals by Yvonne Lanauze, as well as "Solitude." Masterpieces was also notable for the debut of the full-bodied, surprise-laden "The Tattooed Bride," and for the swansongs of three Ellintonian giants of longstanding: drummer Sonny Greer, trombonist Lawrence Brown and alto saxist Johnny Hodges (the latter two would eventually return to the fold).

This album wouldn't have been possible without a chain of events starting at the end of World War II. Recorded in December 1950, just five years after Germany fell to the Allies, revealing the Germans' advances in magnetic tape recording, Ellington's master work holds its wonder still today and the recording quality hands-down betters the sound of many modern-day albums.

Masterpieces is a revelation and a throwback to a golden recording age. So much history and so much luck combined make this album truly special.


"Even in this august company, 'The Tattooed Bride' is a swinging virtuoso piece that, as everyone present must have known, couldn't possibly have been captured in this manner in any era before this session — this was also one of the last sessions to feature the classic Ellington lineup with Johnny Hodges, Lawrence Brown, and Sonny Greer, before their exodus altered the band's sound, and so it's a doubly precious piece (as is the whole album), among the last written specifically for this lineup." - Bruce Eder, All Music

"Most highly recommended. It's one of my "Records to Die For" in the February 2015 Stereophile. You won't have to die to get a copy and it's well worth the money. A true classic both musically and sonically and a historical work of art you can now own." - Michael Fremer, Analog Planet

"The harmonically saturated, transparent mono sound is astonishing for any era of recording. It's sure to leave you swooning, and wondering how and why recorded sound has since gone so far south." - Michael Fremer, 2015 Stereophile Magazine Record to Die For!

"Released in 1950, this was Ellington's first LP, and he used the new medium to stretch out four of his biggest hits. The arrangements are jaw-droppingly gorgeous and the sound just slightly less so. Recorded by Fred Plaut, who later miked Kind of Blue and other Columbia classics, it has the dynamics, depth, and in-your-face tonal realism of a modern (mono) audiophile thumper. Among the best jazz albums ever." - Fred Kaplan, 2015 Stereophile Magazine Record to Die For!
Musicians:

Duke Ellington, piano
Billy Strayhorn, piano
Russel Procope, saxophone
Paul Gonsalves, saxophone
Johnny Hodges, saxophone
Jimmy Hamilton, saxophone
Nelson Williams, trumpet
Andrew Ford, trumpet
Harold Baker, trumpet
Ray Nance, trumpet
William Anderson, trumpet
Quentin Jackson, trombone
Lawrence Brown, trombone
Tyree Glenn, trombone
Mercer Ellington, horn
Sonny Greer, drums
Wendell Marshall, bass
Yvonne Lanauze, vocals

Track Listing:

1. Mood Indigo
2. Sophisticated Lady
3. The Tattooed Bride
4. Solitude
Click here to listen to samples on YouTube.com ♫