Borodin Symphony No2 Rimsky-Korsakov LP 200 Gram Vinyl Martinon Analogue Productions QRP 2017 USA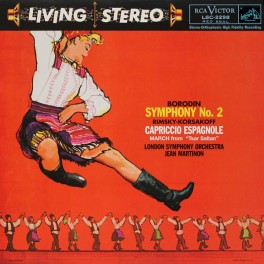 Maximize
One of the best U.K. Living Stereo, with great dynamics and lively performances. A Kingsway Hall recording with Jean Martinon conducting the London Symphony Orchestra in a performance of Borodin's Symphony No. 2. This notable recording also features Rimsky-Korsakov's Capriccio Espagnole and March from The Tale of Tsar Saltan.
Limited Edition
33rpm 200 Gram Audiophile Vinyl
Cut from Original Analog Master Tapes
Pressed at Quality Record Pressings QRP USA
Lacquers plated by Gary Salstrom
Mastered by Willem Makkee
Deluxe "tip-on" Cover
RCA's "golden age" was more like a "golden minute" - in a scant period, roughly from 1958 to 1963, the beginning of the stereo era - pure vacuum tube amplification helped produce recordings demonstrating unparalleled fidelity and warmth, lifelike presence and midband illumination.
Pressed at Quality Record Pressings and plated by Gary Salstrom. Packaged in the original tip-on jacket facsimiles that precisely duplicate the original cover art, including the "Living Stereo" logo, LSC numbers and "Shaded Dog" label. These reissues are designed from the mastering, to the cutting, to the pressing and packaging to be the finest RCA Living Stereo LPs ever reissued. These new versions are clearer than the originals and warmer and richer than past reissues!
One of the best U.K. Living Stereos with very good dynamics recorded at Kingsway Hall. Borodin's Second Symphony is coupled with Rimsky-Korsakov's Capriccio Espagnole. This record is notable for its fine, lively performances. Midband transparency, detail, dynamics and texture are very good, especially in the first two movements of the Borodin.
Hugh Maguire, violin solo
London Symphony Orchestra
Jean Marinon, conductor
Track Listing:

Alexander Borodin (1833-1887)
1. Symphony No. 2 in B minor
Nicolai Rimsky-Korsakov (1844-1908)
2. Capriccio Espagnole, Op. 34
3. Tsar Saltan: March