The Beach Boys Pet Sounds (Mono) 2LP 45rpm 180g Vinyl Analogue Productions Kevin Gray QRP USA 2017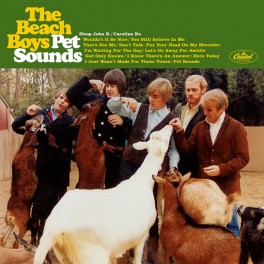 Maximize

Display all pictures

Pet Sounds is famous for its use of multiple layers of unorthodox instrumentation as well as other cutting edge audio techniques for its time. It's considered the best Beach Boys album, and one of the best of the 1960s. The group here reached a whole new level in terms of both composition and production, layering tracks upon tracks of vocals and instruments to create a richly symphonic sound.
Rolling Stone 500 Greatest Albums of All Time Rated 2/500
Rated 11/11 Music and 11/11 Sound by Michael Fremer (Analog Planet)

Limited Edition
2LP cut at 45rpm for ultimate sound quality!
180 Gram Audiophile Vinyl
Mono mixes created under Brian Wilson's supervision
Mastered by Kevin Gray at Cohearent Audio
Mastered from the Original Master Tapes (or best sources available)
Lacquer plating by Gary Salstrom
Pressed at Quality Record Pressings USA
Gatefold Cover by Stoughton Printing
Conventional keyboards and guitars were combined with exotic touches of orchestrated strings, bicycle bells, buzzing organs, harpsichords, flutes, Theremin, Hawaiian-sounding string instruments, Coca-Cola cans, barking dogs, and more. It wouldn't have been a classic without great songs, and this has some of the group's most stunning melodies, as well as lyrical themes which evoke both the intensity of newly born love affairs and the disappointment of failed romance (add in some general statements about loss of innocence and modern-day confusion as well). The spiritual quality of the material is enhanced by some of the most gorgeous upper-register male vocals (especially by Brian and Carl Wilson) ever heard on a rock record. "Wouldn't It Be Nice," "God Only Knows," "Caroline No," and "Sloop John B" (the last of which wasn't originally intended to go on the album) are the well-known hits, but equally worthy are such cuts as "You Still Believe in Me," "Don't Talk," "I Know There's an Answer," and "I Just Wasn't Made for These Times." It's often said that this is more of a Brian Wilson album than a Beach Boys recording (session musicians played most of the parts), but it should be noted that the harmonies are pure Beach Boys (and some of their best).
"It was Pet Sounds that blew me out of the water…I love the album so much. I've just bought my kids each a copy of it for their education in life. I figure no one is educated musically 'til they've heard that album." ~ Paul McCartney

"All of us, Ginger (Baker), Jack (Bruce), and I consider Pet Sounds to be one of the greatest pop LPs to ever be released. It encompasses everything that's ever knocked me out and rolled it all into one." ~ Eric Clapton

The Ultimate Pressings of the Beach Boys Discography from Analogue Productions. To meet the standards of Analogue Productions, their Beach Boys album reissues had a mission to achieve: Present the band's music the way that Brian Wilson — famed co-founder, songwriter and arranger — intended. Mono mixes created under Wilson's supervision were how the surf rockin' California crew rose to fame! And they've got 'em! For the early part of the Beach Boys' career, all of their singles were mixed and mastered and released only in the mono format — they didn't release a single in stereo until 1968. In those days, hits were made on AM radio in mono. And the mono of those times worked well for Wilson, who suffers from partial deafness. In fact, for their first 13 albums, Wilson originally turned in all the final mixed Beach Boy albums to Capitol Records only in mono.

Mastered by Kevin Gray, most from the original master tapes, and plated and pressed by Quality Record Pressings, the finest LP pressing facility in the world, these are awesome recordings to experience. And the look of each album befits its sonic superiority! Presented in "old school" Stoughton tip-on jackets, these time honored favorites shine brighter than the originals!

VH-1 named Pet Sounds as the No. 3 album in the Top 100 Albums in Rock 'n' Roll History, as judged in a poll of musicians, executives and journalists. It's been ranked No. 1 in several music magazines' lists of the greatest albums of all time, including NME, The Times and Mojo Magazine. It was ranked No. 2 in Rolling Stone's 500 Greatest Albums of All Time list.
Track Listing:

01. Wouldn't It Be Nice
02. You Still Believe Me
03. That's Not Me
04. Don't Talk (Put Your Head On My Shoulder)
05. I'm Waiting For The Day
06. Let's Go Away For Awhile
07. Sloop John B
08. God Only Knows
09. I Know There's An Answer
10. Here Today
11. I Just Wasn't Made For These Times
12. Pet Sounds
13. Caroline No
Click here to listen to samples on YouTube.com ♫