Radiohead Hail to the Thief 2LP 45rpm 180 Gram Vinyl Gatefold XL Recordings Optimal 2016 EU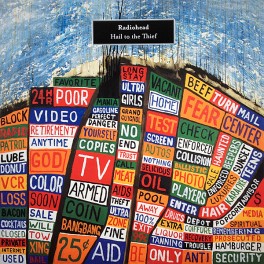 Maximize
Artist:
Radiohead
Title:
Hail to the Thief
Catalog Number:
XLLP785
Label:
Parlophone
Reissued by:
XL Recordings
Barcode:
634904078515
Original release year:
2003
Reissue year:
2016
Number of discs:
2
Revolutions per minute:
45 rpm
Disc size:
12"
Vinyl Weight Grade:
180gr
Total Item Weight:
581gr
Pressing country:
Germany
For Market Release in:
EU
Added to catalog on:
September 14, 2017
Note:
Never eligible for any further discounts
Vinyl Gourmet Club:
No
The sixth studio album by Radiohead released in 2003, Hail To The Thief was seen as a return to alternative rock, drawing its sound from every era of the band's existence. Band members described the album as having a more 'swaggering' sound and a relaxed recording process, in contrast to previous tense sessions. A brilliant album by all account, and sounds amazing on 45rpm vinyl.
45rpm 2LP 180 Gram Vinyl
Pressed at Optimal Media, Germany
Gatefold Cover
"Radiohead's admittedly assumed dilemma: how to push things forward using just the right amounts of the old and the older in order to please both sides of the divide? Taking advantage of their longest running time to date, enough space is provided to quench the thirsts of resolute Bends devotees without losing the adventurous drive or experimentation that eventually got the group into hot water with many of those same listeners. Guitars churn and chime and sound like guitars more often than not; drums are more likely to be played by a human; and discernible verses are more frequently trailed by discernible choruses. So, whether or not the group is to be considered "back," there is a certain return to relatively traditional songcraft. Had the opening "2 + 2 = 5" and "Sit Down. Stand Up." been made two years before, each song's slowly swelling intensity would have plateaued a couple minutes in, functioning as mood pieces without any release; instead, each boils over into its own cathartic tantrum.
The spook-filled "Sail to the Moon," one of several songs featuring prominent piano, rivals "Street Spirit" and hovers compellingly without much sense of force carrying it along. Somewhat ironically, minus a handful of the more conventionally structured songs, the album would be almost as fractured, remote, and challenging as Amnesiac. "Backdrifts" and "The Gloaming" feature nervous electronic backdrops, while the emaciated "We Suck Young Blood" is a laggard processional that, save for one outburst, shuffles along uneasily. At nearly an hour in length, this album doesn't unleash the terse blow delivered by its two predecessors. However, despite the fact that it seems more like a bunch of songs on a disc rather than a singular body, its impact is substantial. Regardless of all the debates surrounding the group, Radiohead have entered a second decade of record-making with a surplus of momentum." - Andy Kellman, All Music
Track Listing:

LP 1 Side A
1. 2 + 2 = 5
2. Stand Up. Sit Down (Snakes & Ladders.)
3. Sail to the Moon. (Brush the Cobwebs out of the Sky)

LP 1 Side B
4. Backdrifts. (Honeymoon is Over)
5. Go to Sleep. (Little Man Being Erased.)
6. Where I End and You Begin. (The Sky Is Falling In.)

LP 2 Side C
7. We Suck Young Blook. (Your Time is Up.)
8. The Gloaming. ( Softly Open Our Mouths in the Cold.)
9. There There. (The Boney King of Nowhere)
10. I Will. (No Man's Land)

LP 2 Side D
11. A Punchup at a Wedding. (No no no no no no no no.)
12. Myxomatosis. (Judge, Jury & Executioner.)
13. Scatterbrain (As Dead as Leaves.)
14. A Wolf at the Door. (It Girl. Rag Doll.)
Click here to listen to samples on YouTube.com ♫